Come with me to Funchal where I eat the ugliest fish in the sea, visit the world's best botanical garden, walk above the clouds, get close up with footballer Cristiano Ronaldo, and discover the joys of poncha.
Madeira, a small volcanic island in the Atlantic Ocean, is part of Portugal. Its location, mild sub-tropical climate and geology have given rise to a unique eco-system which make it a fascinating place to visit. There are stunning views, lush tropical gardens, fruits you won't find anywhere else, a rich food and drink culture, beautiful beach resorts and a vibrant street art scene. It's well worth a visit.
Around Funchal's Harbour
Funchal's harbour is a busy and colourful place, with sailing boats, fishing boats, cruisers, catamarans and whale-watching boats coming and going all the time. There are also massive cruise ships here, usually one in port at a time. Funchal regularly hosts these huge craft which call in on their way between Europe and the Caribbean/U.S.
Busy Avenida do Mar runs alongside the harbour and at most times of the day is full of people walking, jogging or sitting around in cafes having a cold drink or an ice cream. With its big palm trees and the headland in the distance this area has a bit of a Waikiki vibe about it.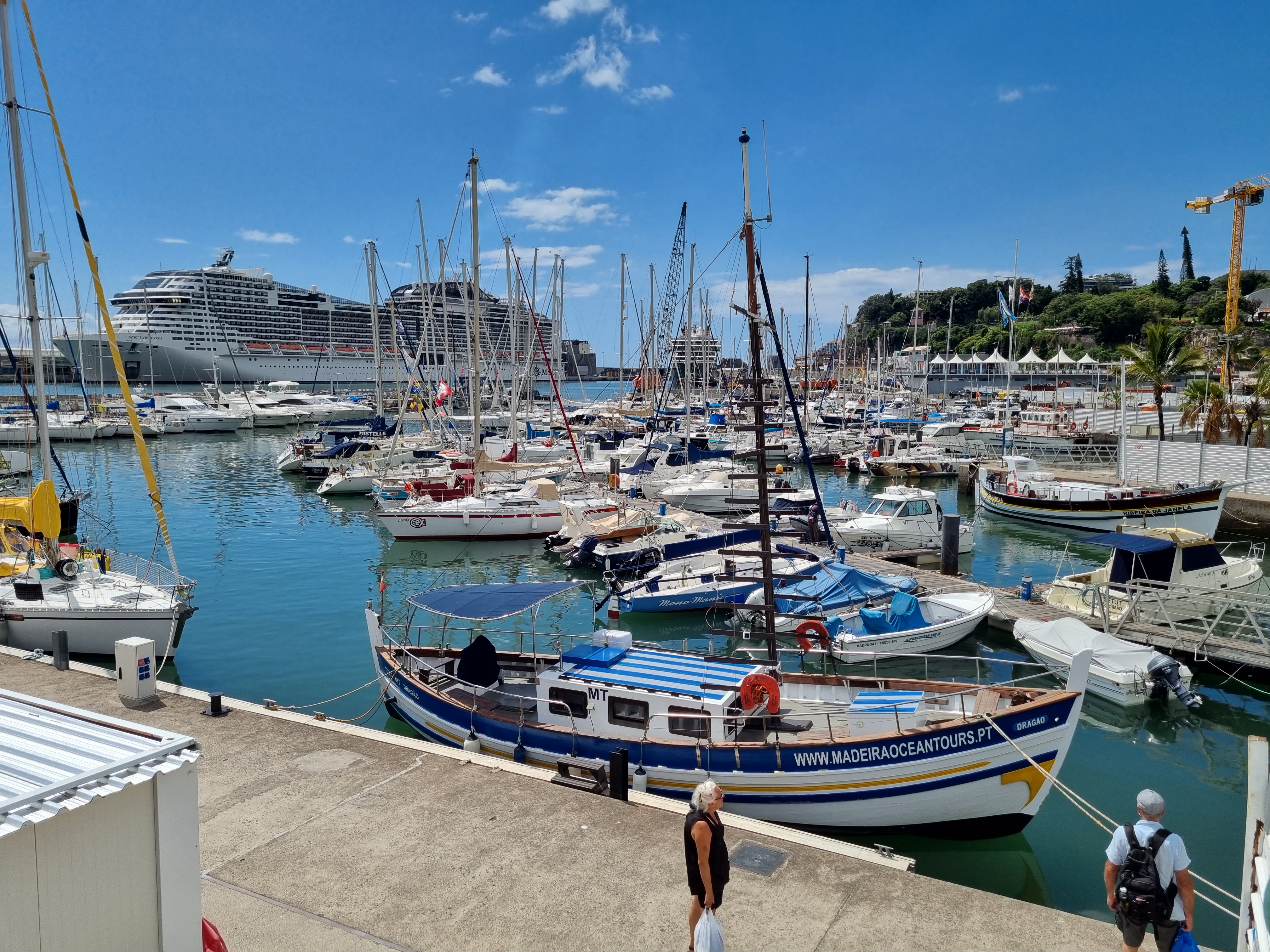 Mercado dos Lavradores
Busy local food markets are nearly always interesting places to visit. Funchal's Mercado dos Lavradores (Farmer's Market) is a rather lovely 1940s building in the heart of the old town (Zona Velha) which majors on fresh tropical fruit, spices, exotic flowers and fish.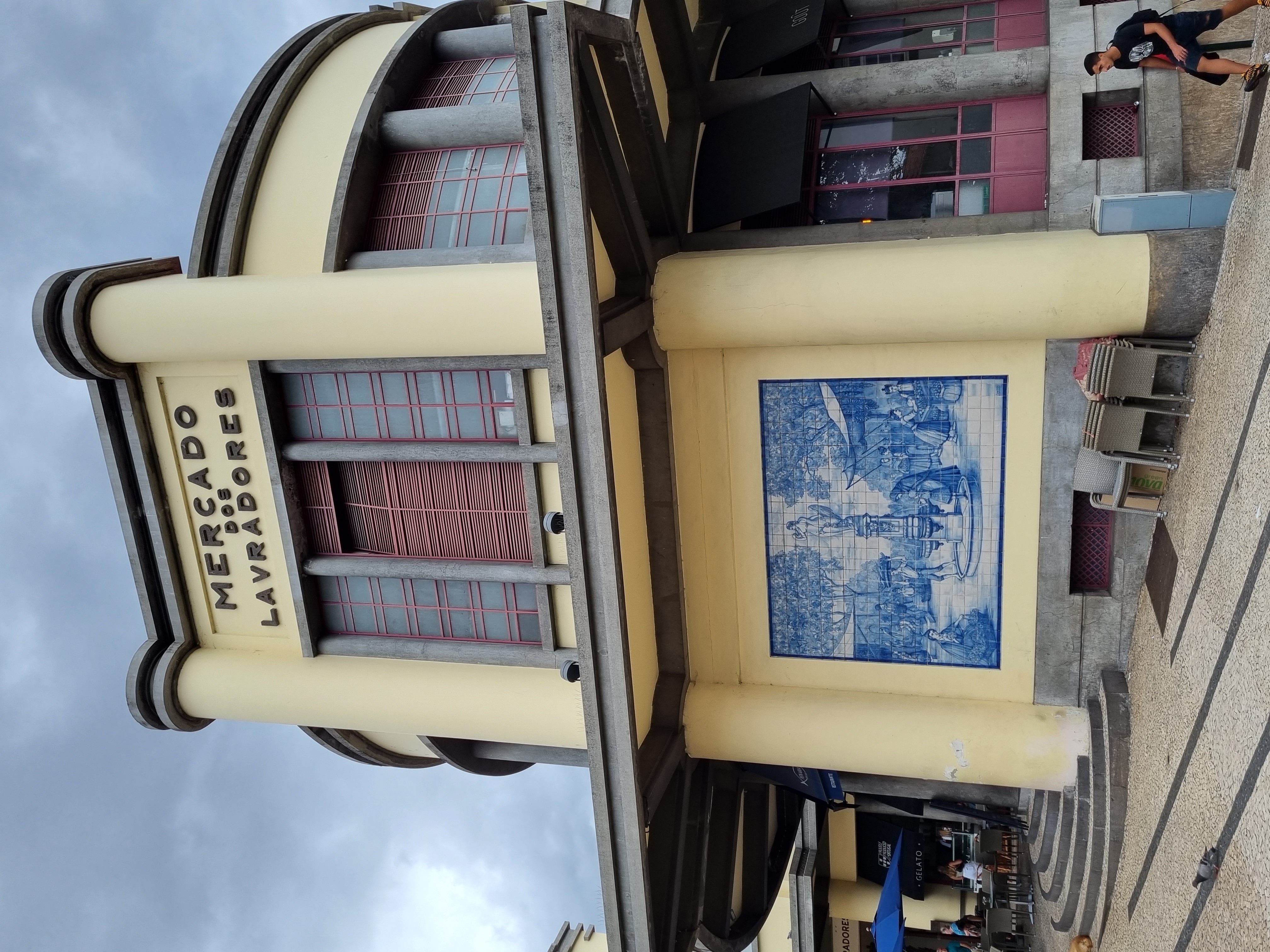 The range of fruit available here is frankly quite astonishing and there are some which we were told by locals can only be found on Madeira. We tried a couple of varieties of bananas, grapes and dragon fruit, which came to around €10. Not cheap, but very good.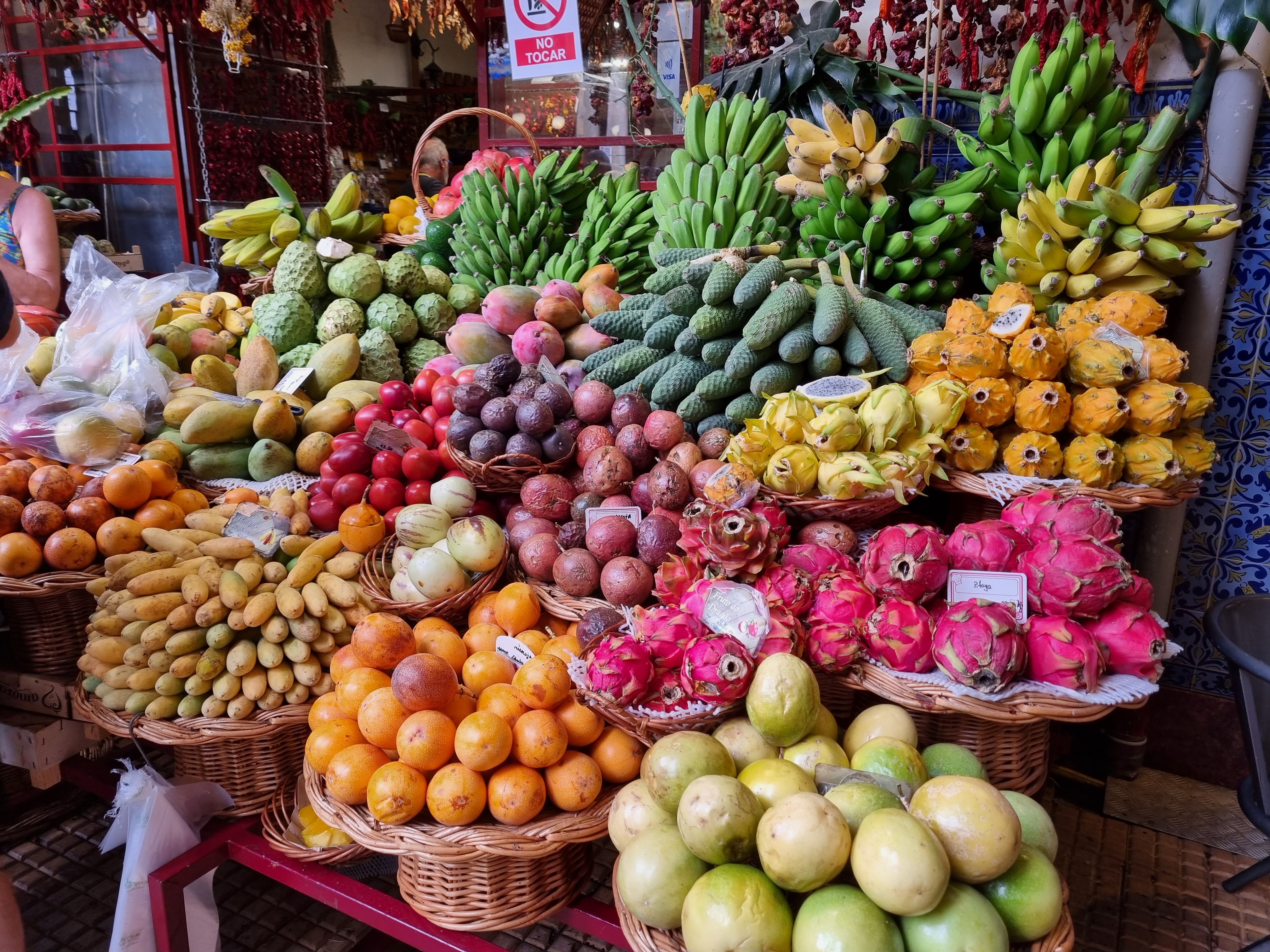 The World's Ugliest Fish
The fish market is located at the far end of the market. Here we wanted to track down the famous "Espada," or black scabbard fish, because it's a bit of a celebrity in these parts. With its sharp, jagged teeth, eel-like eyes and skin which looks like it has swum through an oil slick, the Espada is known as the world's ugliest fish – take a look at the picture below and see what you think!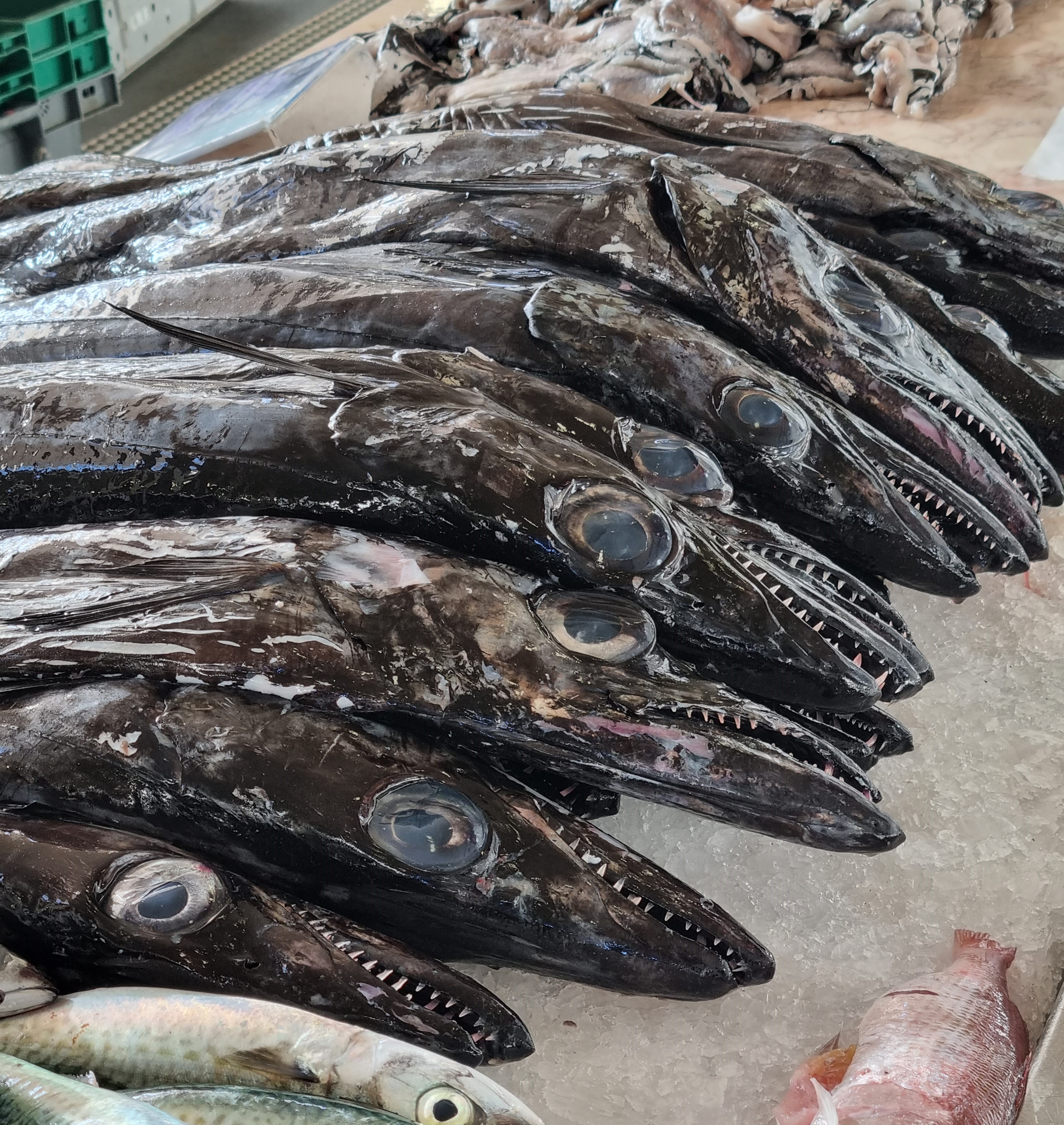 Pico dos Barcelos
Funchal is located in a large valley, which is a kind of natural amphitheatre. To get a great view across the whole valley, the best place to go is the viewpoint at Pico dos Barcelos (altitude 355 metres). It's in the parish of Santo António – home to the 'Andorinha' football club, which kick-started Cristiano Ronaldo's career. There's more on Cristiano later in the blog!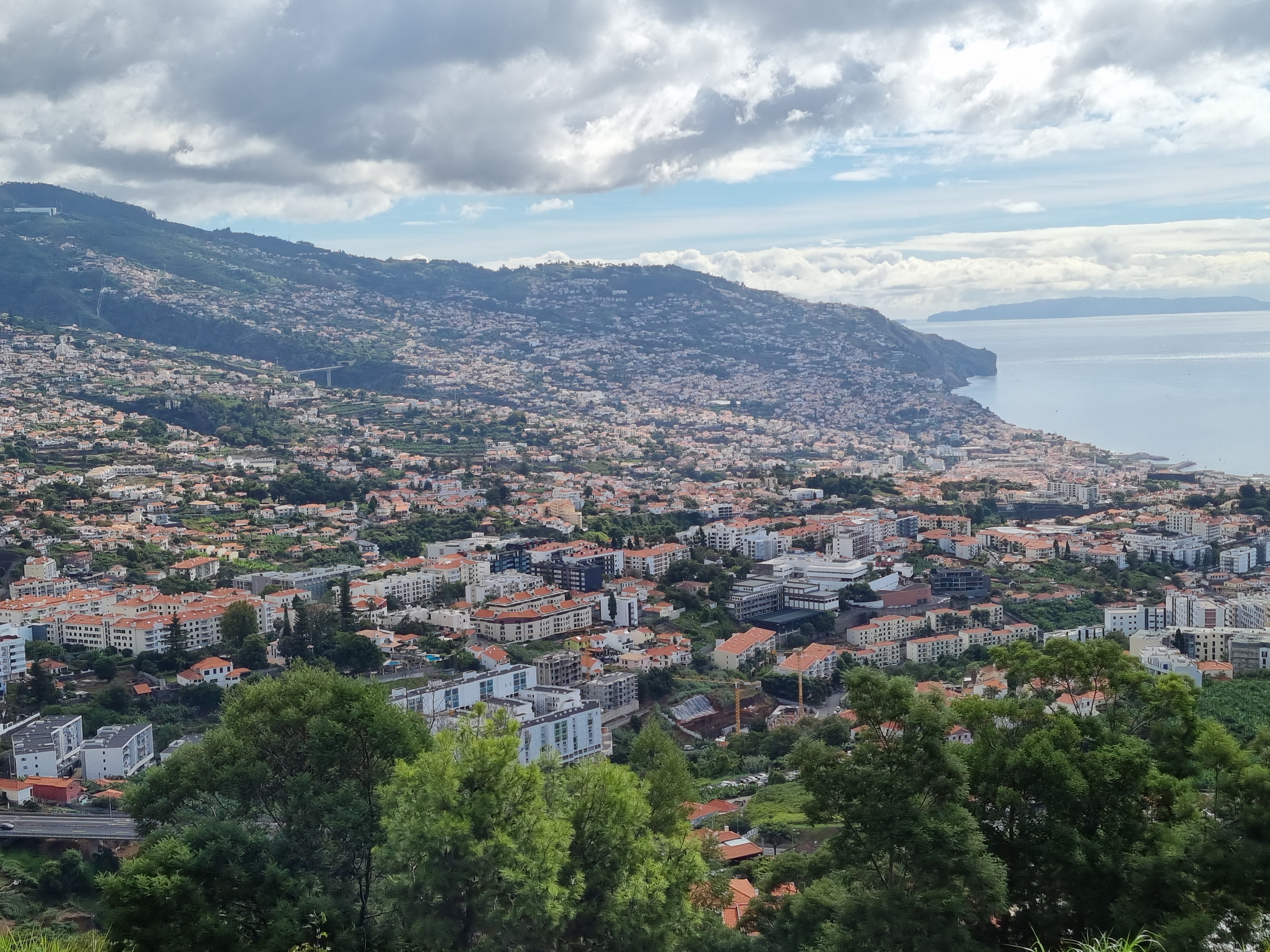 Rua de Santa Maria – Street Art and Food
Near the market is the colourful, and pretty touristy, Rua de Santa Maria. If you're a street art fan you'll love the painted doors on this street. There are over 200 pieces of artwork. Many are beautiful, quirky or just downright weird.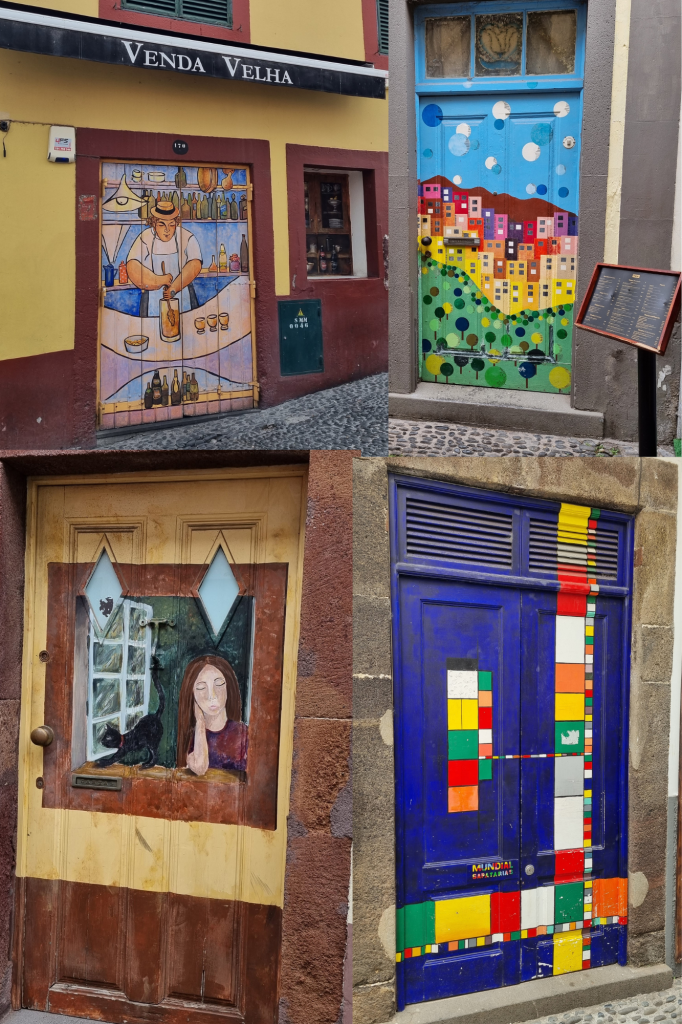 This narrow cobblestone street is pedestrian-only and has dozens of restaurants with outside seating. As you pass along the street you'll be bombarded with entreaties from restaurant owners and staff to sit down and enjoy a meal at their establishment. We ate one evening at a seafood restaurant called "Dona Joana Rabo-de-Peixe" and had a very nice meal there.
As you proceed down Rua de Santa Maria, you may also be quite surprised to see cable cars passing low overhead – the Teleférico Funchal-Monte base station is nearby. Since 2000 this cable car has been whisking people from the old town up to the Monte Palace Tropical Garden in a few minutes. It offers spectacular views over Funchal.
This garden is one of Madeira's crown jewels. It's pretty big (covering 70,000 sq. m.), it's fascinating and I'm fairly certain there's no other garden quite like it anywhere in the world. Located 600 metres up on a hillside overlooking Funchal it offers stunning views, and in Madeira's unique microclimate, non-native plants from many parts of the world happily thrive here.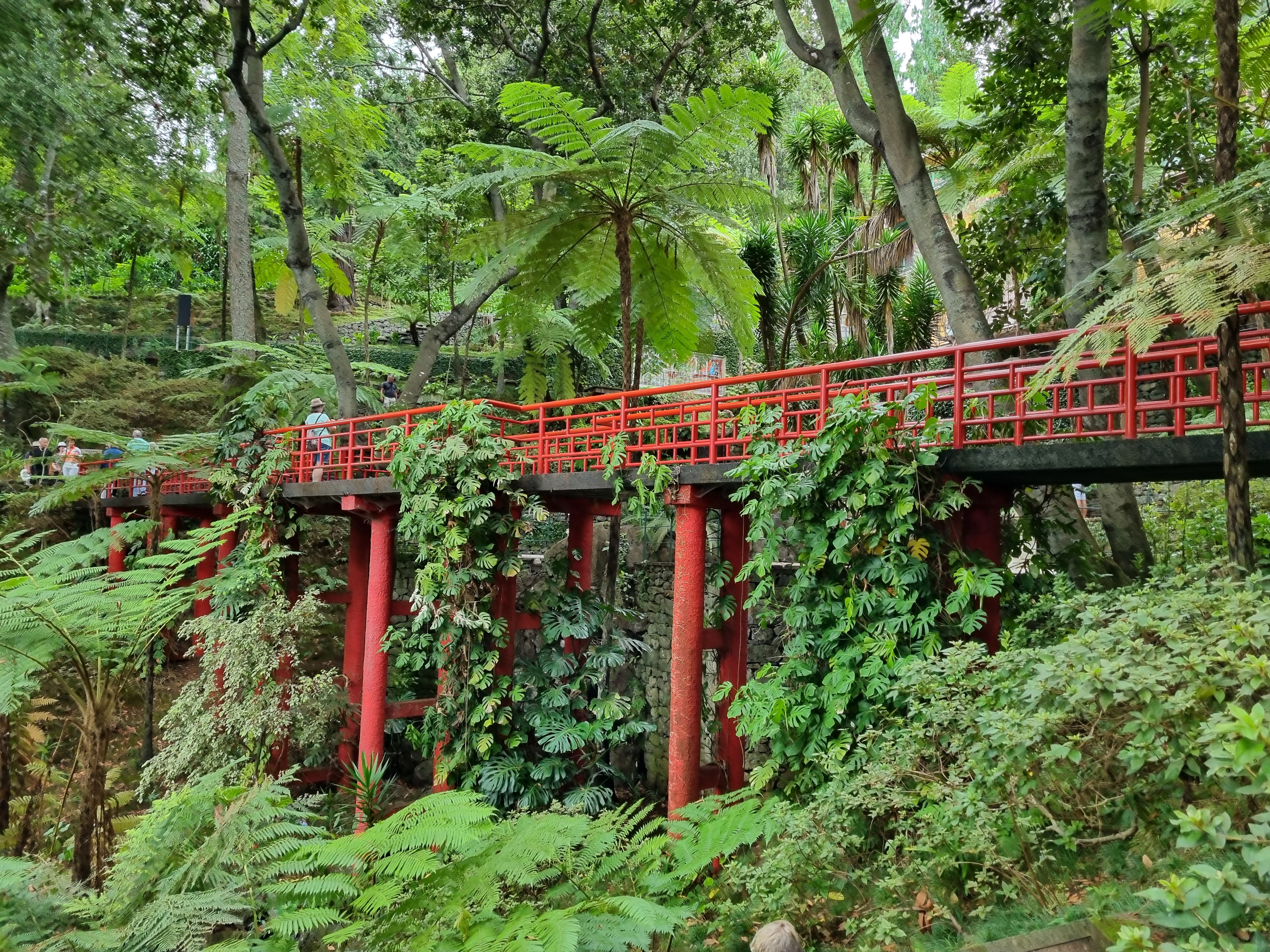 You'll find azalias, orchids, protea and cycads, as well as ferns, cedars and laurels. There are swans, flamingos, heron and peacocks, and ponds teeming with koi. Throughout the garden there are waterfalls, lakes, Buddhas, pagodas, decorative bridges, stepping-stone paths, lanterns and ceramic tile collections. All in all, it's an eclectic mix, but it all combines very well and you can happily spend two or three hours here taking it all in.
To get back down to Funchal, you can either take the cable car, or, if you're up for an adrenaline rush, you can opt to ride down on a Monte sled. These are wicker toboggans, which are pushed very rapidly downhill by two drivers in traditional white uniforms and straw hats. The sleds don't have brakes, so the drivers use their boots to slow the sleds down.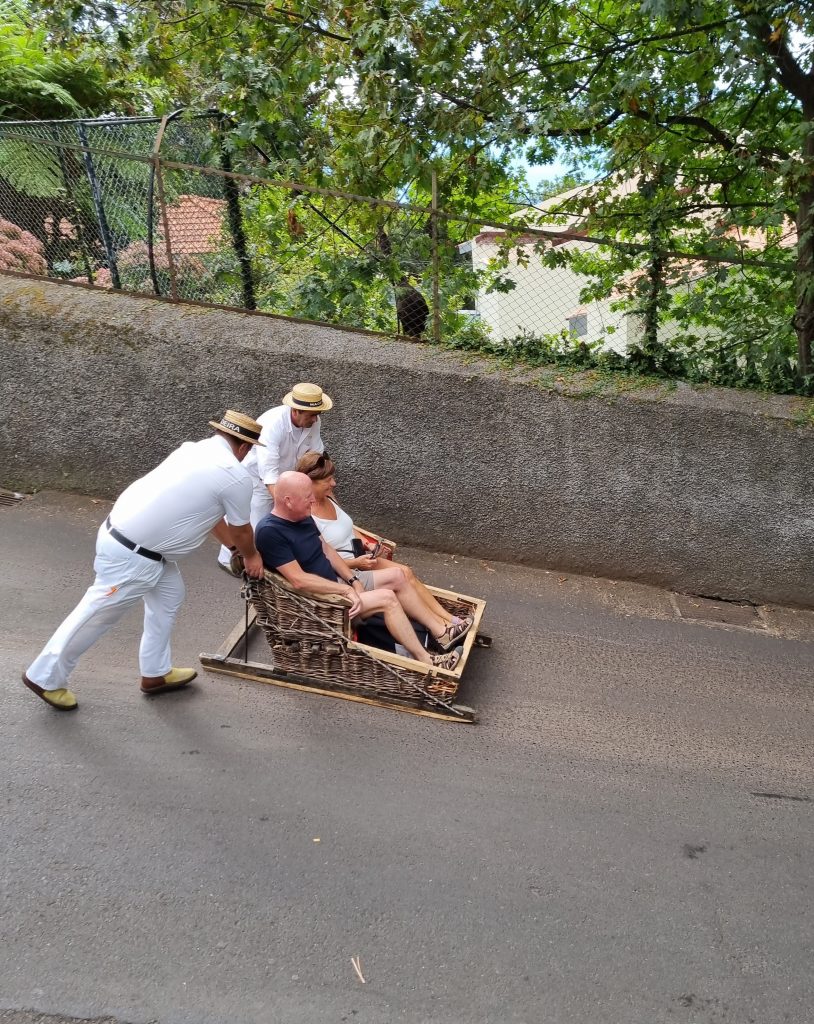 Reid's Palace
Opened in 1891 as Madeira's first resort, Reid's Palace is set on a cliff in 10 acres of subtropical gardens and has superb views across Funchal. This is a luxury hotel which exudes olde worlde charm and style, and is surely one of the loveliest spots in Funchal to relax and enjoy a bottle of chilled vinho verde. Taking Afternoon Tea on the terrace at Reid's Palace is a Funchal tradition. You need to book well in advance though as this is very popular. It costs €39 per person.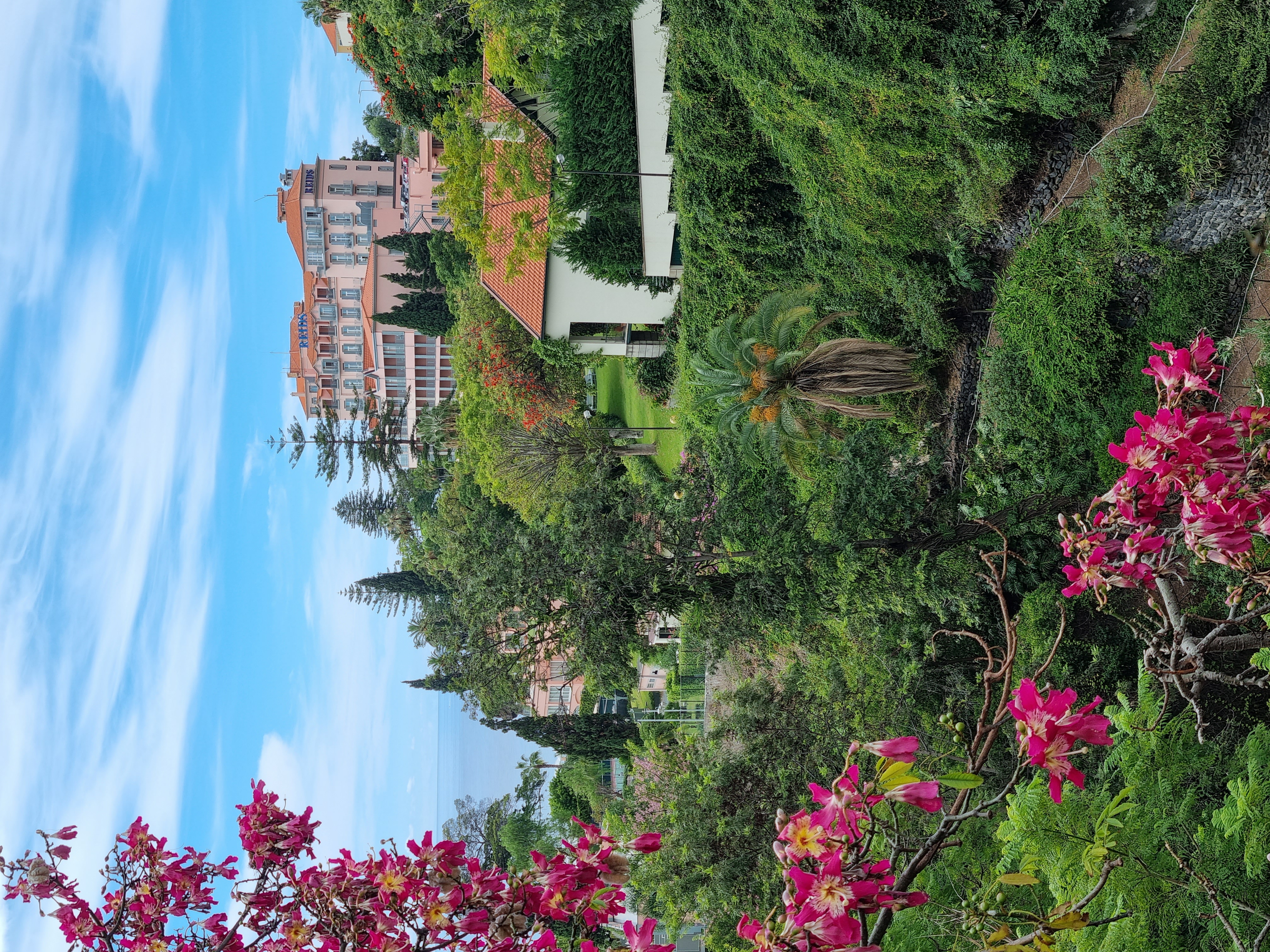 Museu CR7
Madeira's most famous son is the footballer, Cristiano Ronaldo. As a Manchester United fan, a visit to the CR7 Museum on Avenida Sá Carneiro was obviously on the list. I'm not sure quite what I was expecting, but this is essentially an homage to the man – a collection of his awards, trophies, shirts and other soccer memorabilia gathered over his long and distinguished playing career.
If you're not a soccer fan, I can imagine this place might be a bit underwhelming. The best thing about it (and certainly the most photographed) is the big bronze CR7 statue outside the museum entrance. It's rather hard to miss the statue's "buffed crotch" – a lot of female fans like to rub it!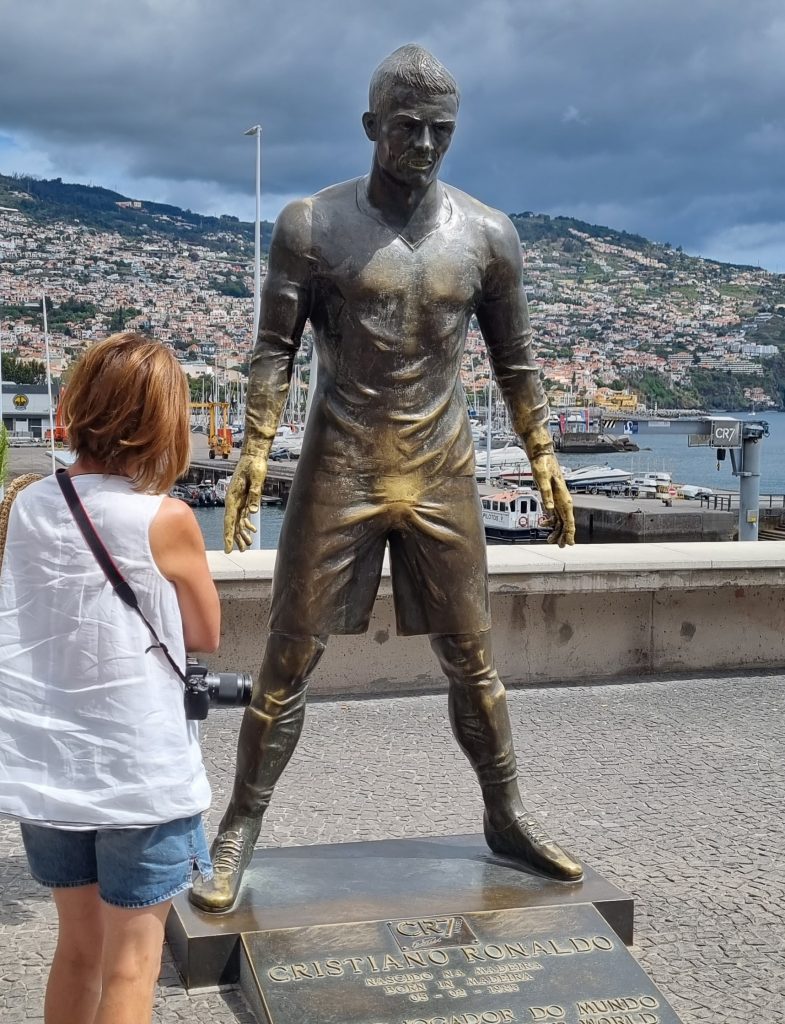 Food
This isn't a foodie blog, but the availability locally of great fish and a unique variety of fresh fruits has given rise to a lively and varied restaurant scene locally. I just wanted to mention a couple of interesting dishes we tried, as well as two great local eateries.
Having seen the black Espada fish at the Mercado dos Lavradores, this had to be tried, Madeira style, deep fried and served with a fried banana. "Espada com banana" seems to be the de facto national dish in Madeira – many local restaurants serve it and although the Espada is no beauty it does taste delicious!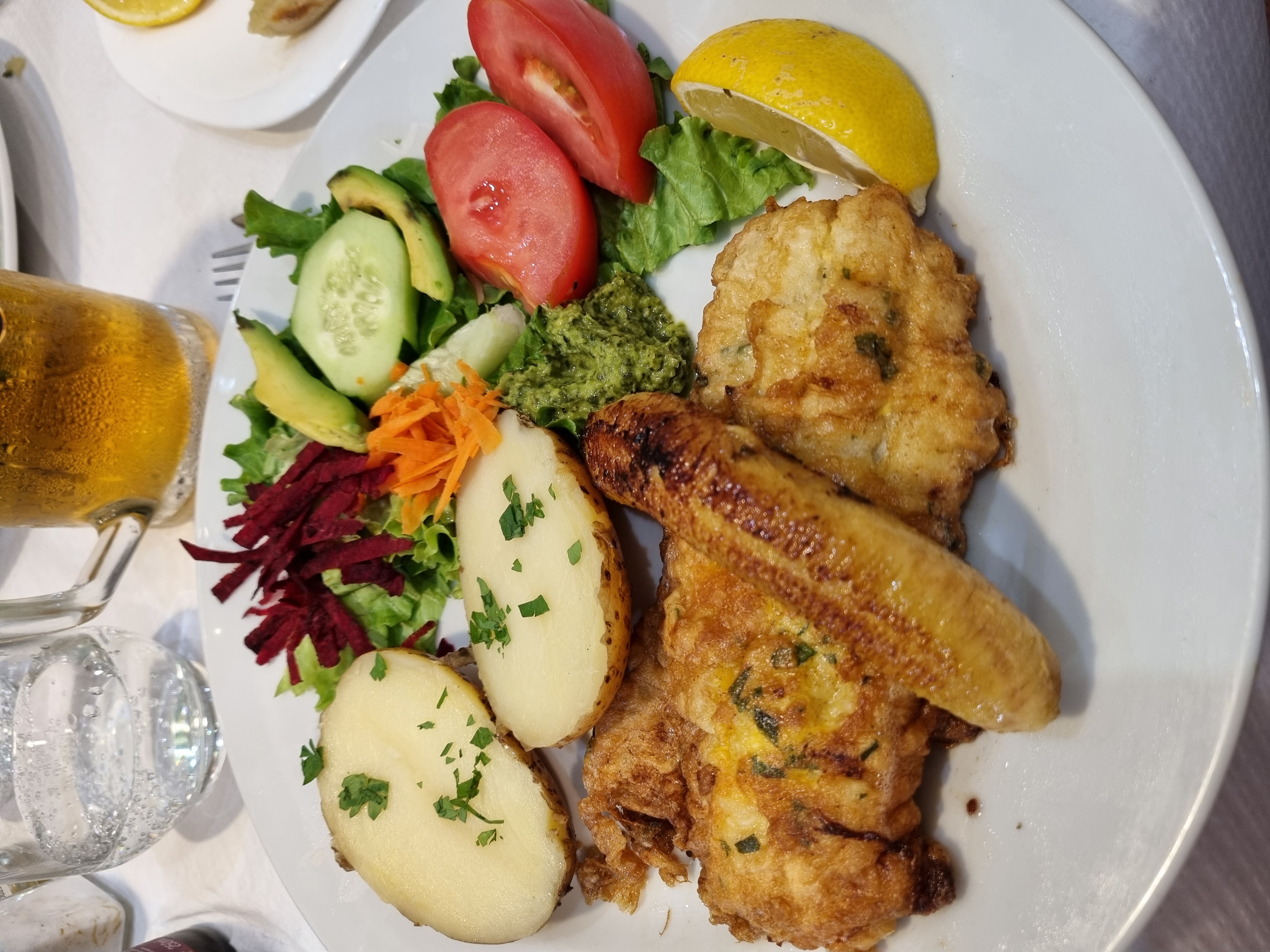 Another interesting local dish is grilled limpets (lapas), a shellfish which my wife tried and said were excellent. The fact that she, a Japanese, had never before eaten limpets, was a surprise to me, but it turns out they are actually quite a rare culinary find. Luckily the waters around Madeira are remarkably unpolluted, which means they thrive here. In Madeira they are grilled in the pan in the shell itself, then seasoned with butter and garlic, with a squeeze of lemon added. They are usually served as a starter, accompanied with "Bolo do Caco" (local bread) with garlic butter.
The best restaurant meal we had in Funchal was at the curiously named Restaurante Informal on Rua Murcas in the old town. My wife had spotted it – which wasn't difficult as there was a large crowd of people outside it every night waiting for a table. They don't take bookings here and this seemed to be the hottest dining-spot in town at the time of our visit. We came back, early, on two subsequent evenings and still couldn't get a table. On our last evening we got there at 17.45 and finally got to eat there. I'm glad we persisted as this place serves amazing food – just have a look at what people are saying about it on TripAdvisor.
Another place we can highly recommend is Konsai, a Japanese restaurant on Avenida Zarco. It serves very good sushi and poke bowls.
Blandy's Madeira Wine
Madeira's most famous export, apart from Cristiano Ronaldo, is its fortified wine, and the name most closely associated with this is Blandy's. They've been producing it since 1811. No visit to Funchal is complete without a wine-tasting at Blandy's on Avenida Arriaga, so we headed over there one afternoon, paid our money and got to grips with a selection of different varieties, ranging from dry to sweet.
This place is very well set up to deal with visitors and the shop is well stocked. The Vintage Room is described as "the cathedral of Blandy's rarest and oldest Madeira wines." Wines dating from the beginning of the 20th century can be tasted, such as Blandy's Bual 1920. Given the value today of some of the old vintages, I was surprised to see security protection measures involving chicken-wire.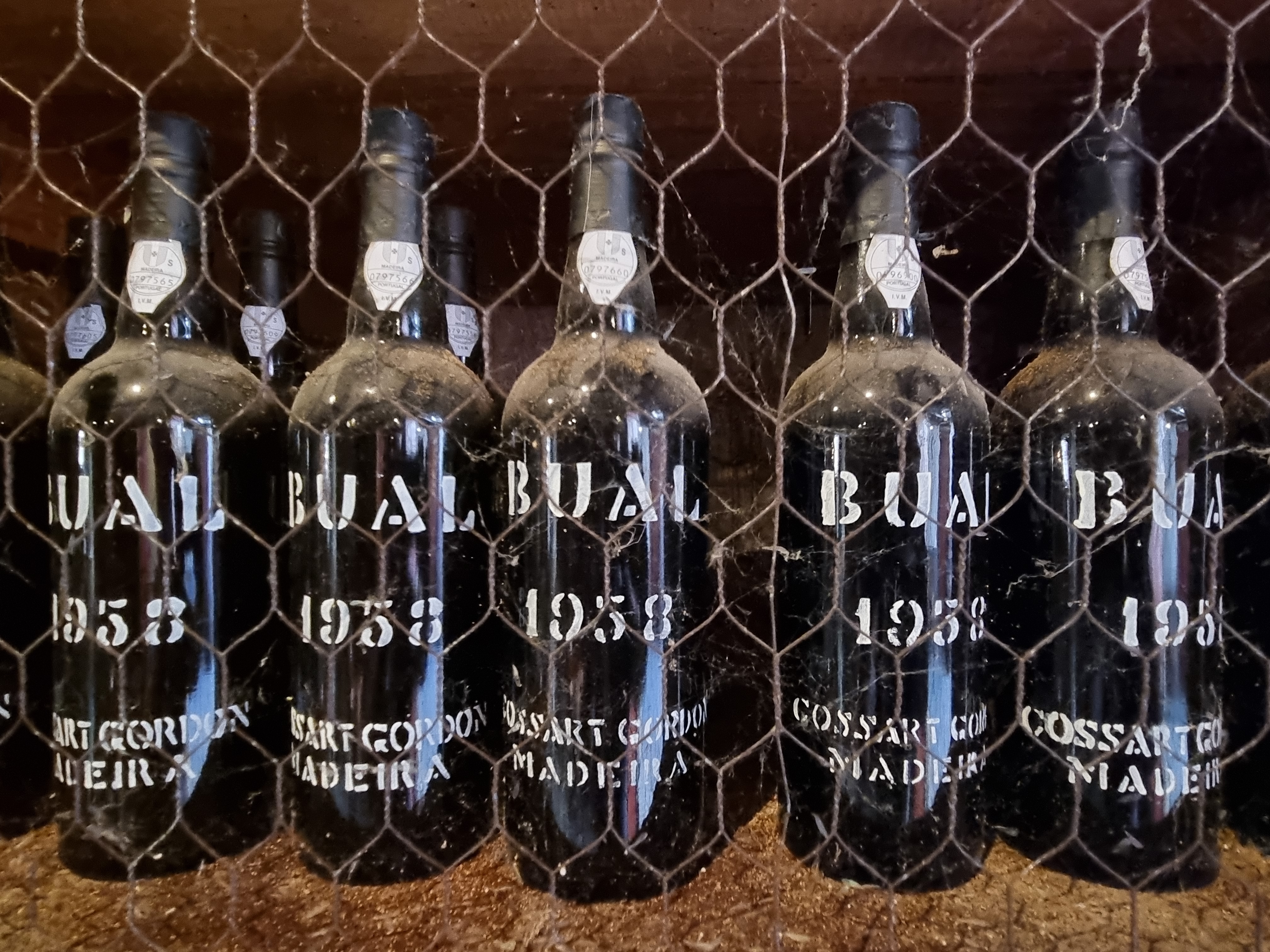 Poncha Bars
As you walk around Funchal, you'll see "Poncha Bars" on many streets, filled with happy drinkers. Poncha is a traditional local alcoholic drink made from local sugar cane rum called "aguardente". This is mixed, using a "caralhinho" (poncha stick) with honey or sugar and then with either orange juice, lemon juice or passion fruit juice.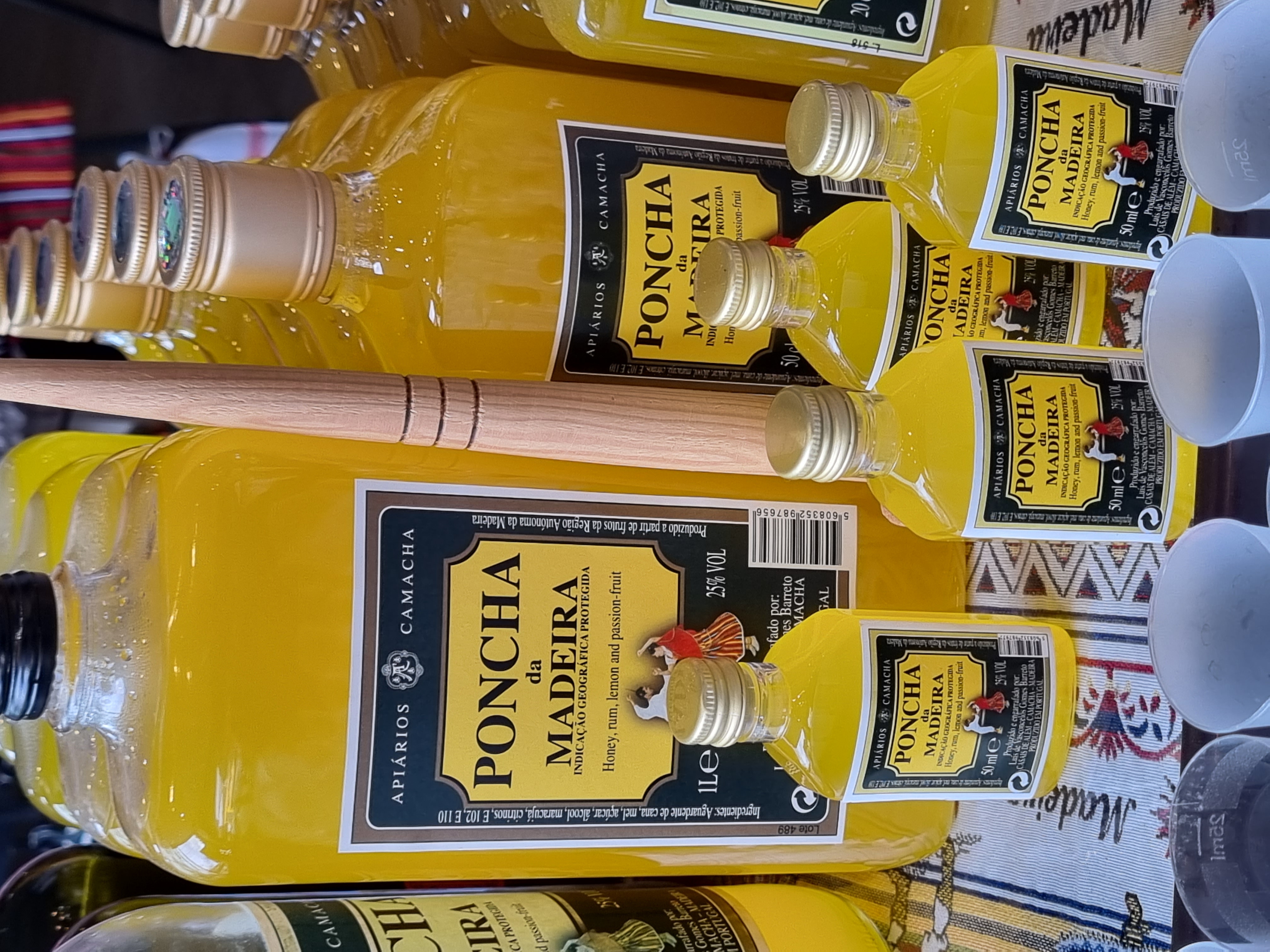 The classic version is the one made with lemon juice, which is called a "pescador" (fisherman), and this can be pretty sour. You may prefer to go for the sweeter versions with orange juice. It's a lovely drink and you should definitely try it.
To enjoy a poncha with a view we recommend the rather quirky rooftop Terrace Bar at our hotel, the Sé Boutique Hotel, which is right next to the Sé Cathedral. Here you get a 360° view of the city and the ocean. As the sun sets, this is a lovely spot to sit back and relax with a cocktail. Some evenings they have live jazz or "Fado" here.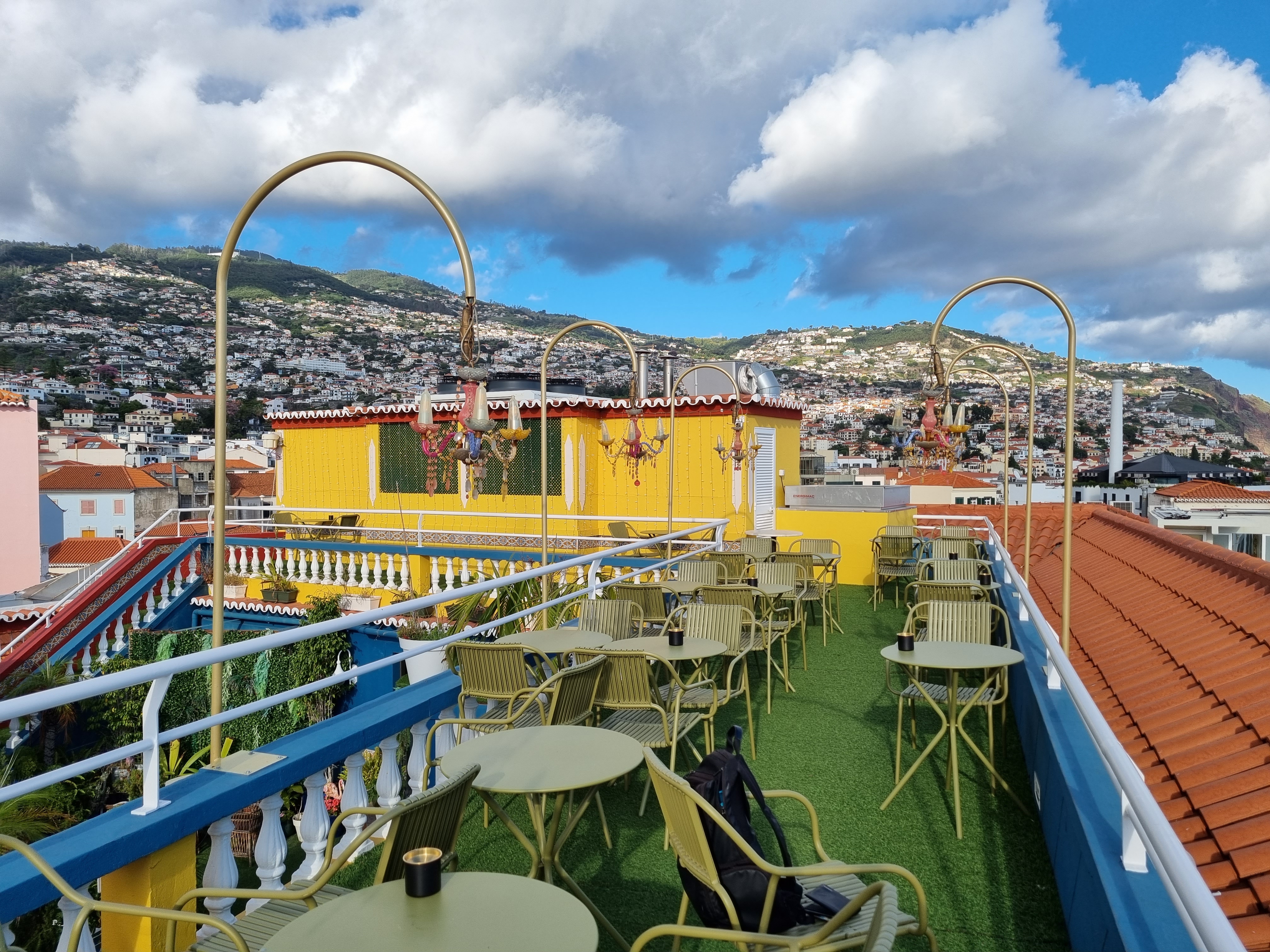 Camara do Lobos
One of our reasons for wanting to visit the pretty fishing village of Camara do Lobos is its Churchill connection. Sir Winston Churchill was an avid painter, and always had a keen eye for great spots to sit and paint. So it was in 1950 that he came, with his brushes and easel, to a spot overlooking the harbour in Camara do Lobos to do some painting.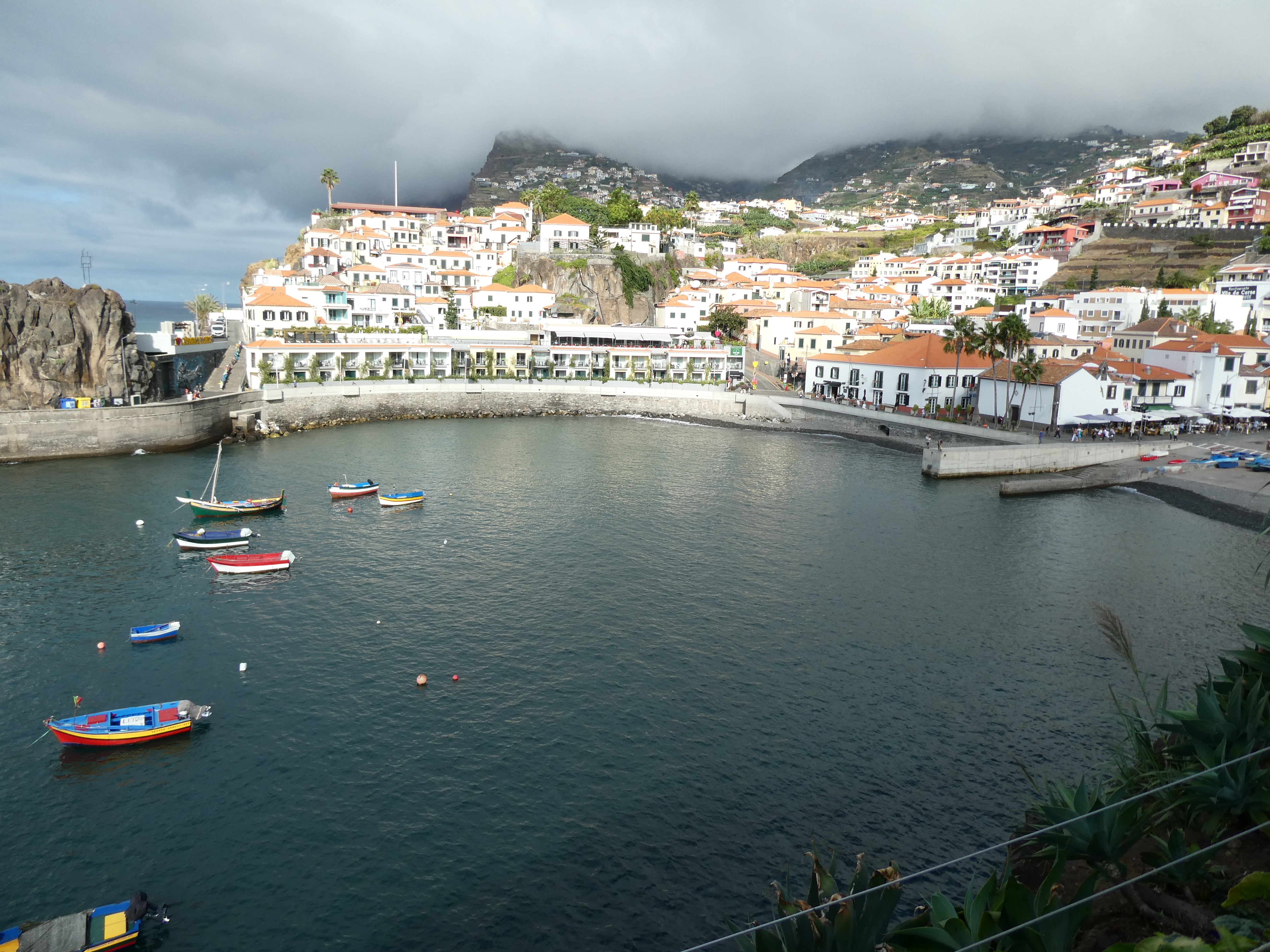 And the Churchill connection remains strong, with a hotel and a restaurant in the village still carrying his name. This is a charming little village, with some lively back streets where you can eat and drink rather well. It's about 6 kilometres along the coast from Funchal and well worth a visit. We took a local bus, which cost €2 each way.
East Island Tour
To wrap up our visit to Madeira, we decided to go on a 150km. minibus tour around the eastern part of the island. Leaving Funchal we passed underneath the incredible extension to the airport's runway – and it really is an impressive piece of engineering when you behold the number and sheer size of the reinforced concrete pillars that are holding it up.
After a quick stop at a spectacular viewpoint overlooking Machico, and a visit to the Engenhos do Norte rum factory in Porto da Cruz, we arrived in Santana, home of the famous "palheiros" houses, complete with their little vegetable gardens. Sadly, very few of these brightly-painted timber and thatch houses remain now but they are well worth a visit.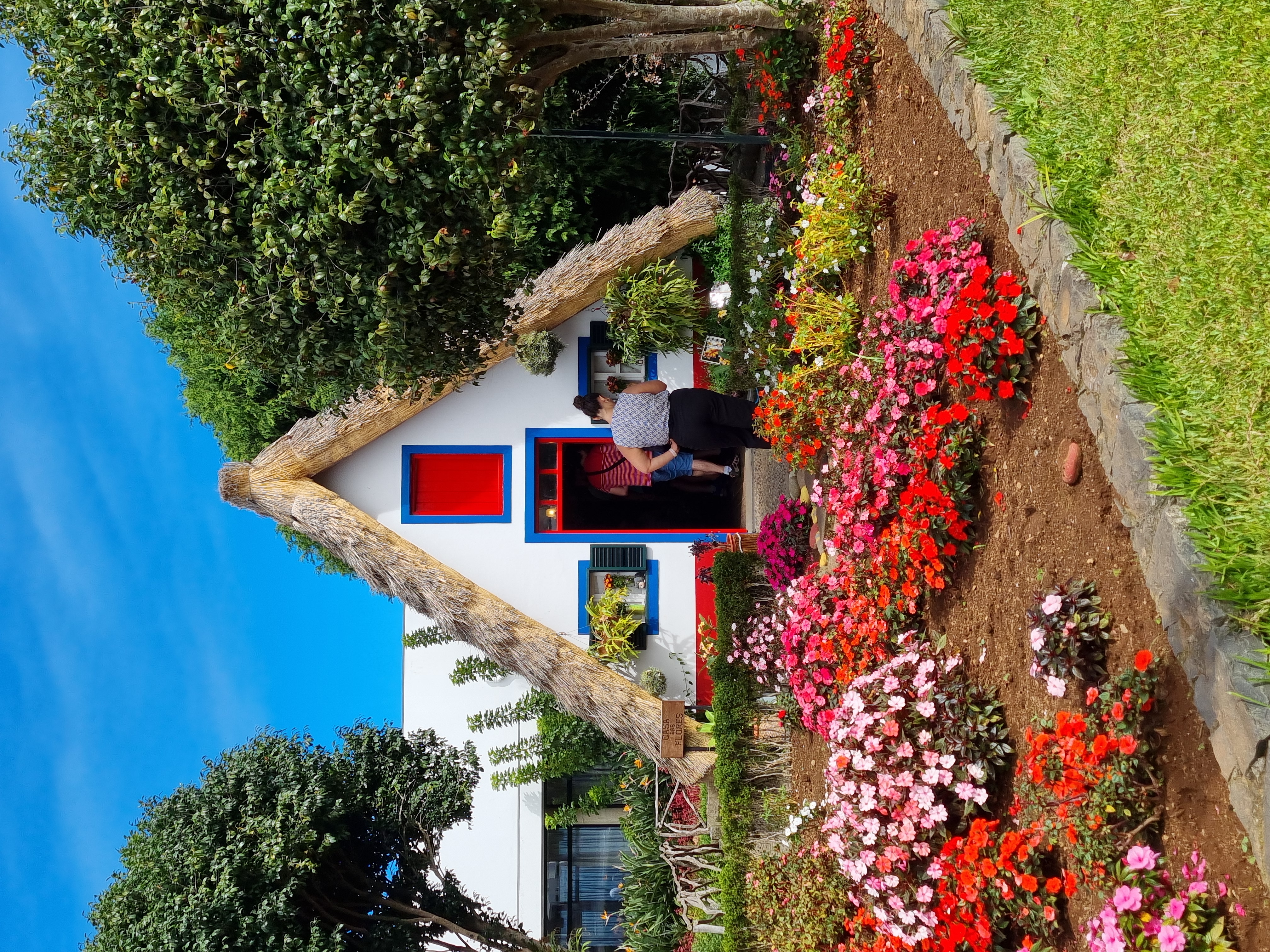 After Santana our minibus headed high into the hills and into the Ribeiro Frio Forest Park. This area of indigenous Laurissilva forest is a great place to see Madeira's fauna and flora. We had the opportunity to stretch our legs here and walk part of a hiking-trail alongside a "levada" (irrigation channel).
Our final, and most spectacular, stop was the viewpoint at Pico do Arieiro, at 1,818 metres the 3rd highest point on Madeira. Up here you get stunning views of the island and the Atlantic Ocean beyond, and because the clouds nestle in the valleys below your eyeline, you can literally walk above the clouds along the mountain trails here. It's definitely a sight not to be missed.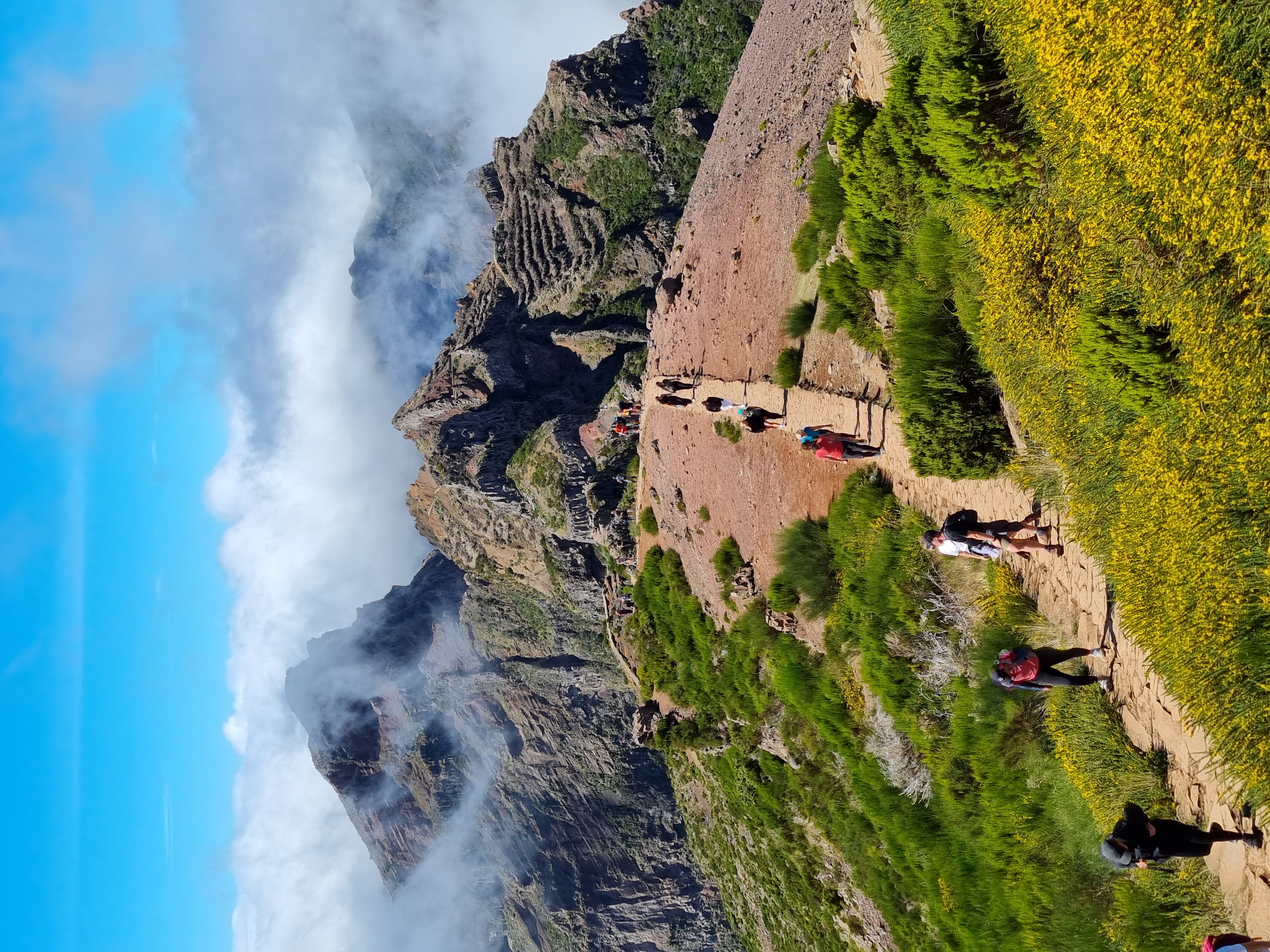 Links to more of my travel blogs:
Ermoupoli, Syros – a Great Place to Chill (bishopsgatecopy.co.uk)
Around Kent: Among the Cherries and the Vines » Bishopsgate Copywriting
Exploring Chartwell – the Home of Sir Winston Churchill » Bishopsgate Copywriting
Autostadt in Wolfsburg – VW's Homage to the Automobile (bishopsgatecopy.co.uk)