Cherry-picking at Chegworth Valley and a visit to Yotes Court Vineyard make for a great day out.
One of the brilliant things about living in Kent, the so-called Garden of England, is the sheer abundance of locally-grown soft fruit available in the summer months – strawberries, raspberries, blackberries, blueberries and gooseberries, as well as stone fruits such as plums and cherries. In autumn, Kentish orchards are bursting with apples and pears and the local vineyards are producing a rich crop of grapes.
There's something undeniably satisfying about heading into a cherry orchard on a sunny day and picking your own cherries. As late June approaches, and the cherries in Kent's orchards begin to ripen, the social media feeds of fruit-growers start advertising "PYO cherries."
Chegworth Valley PYO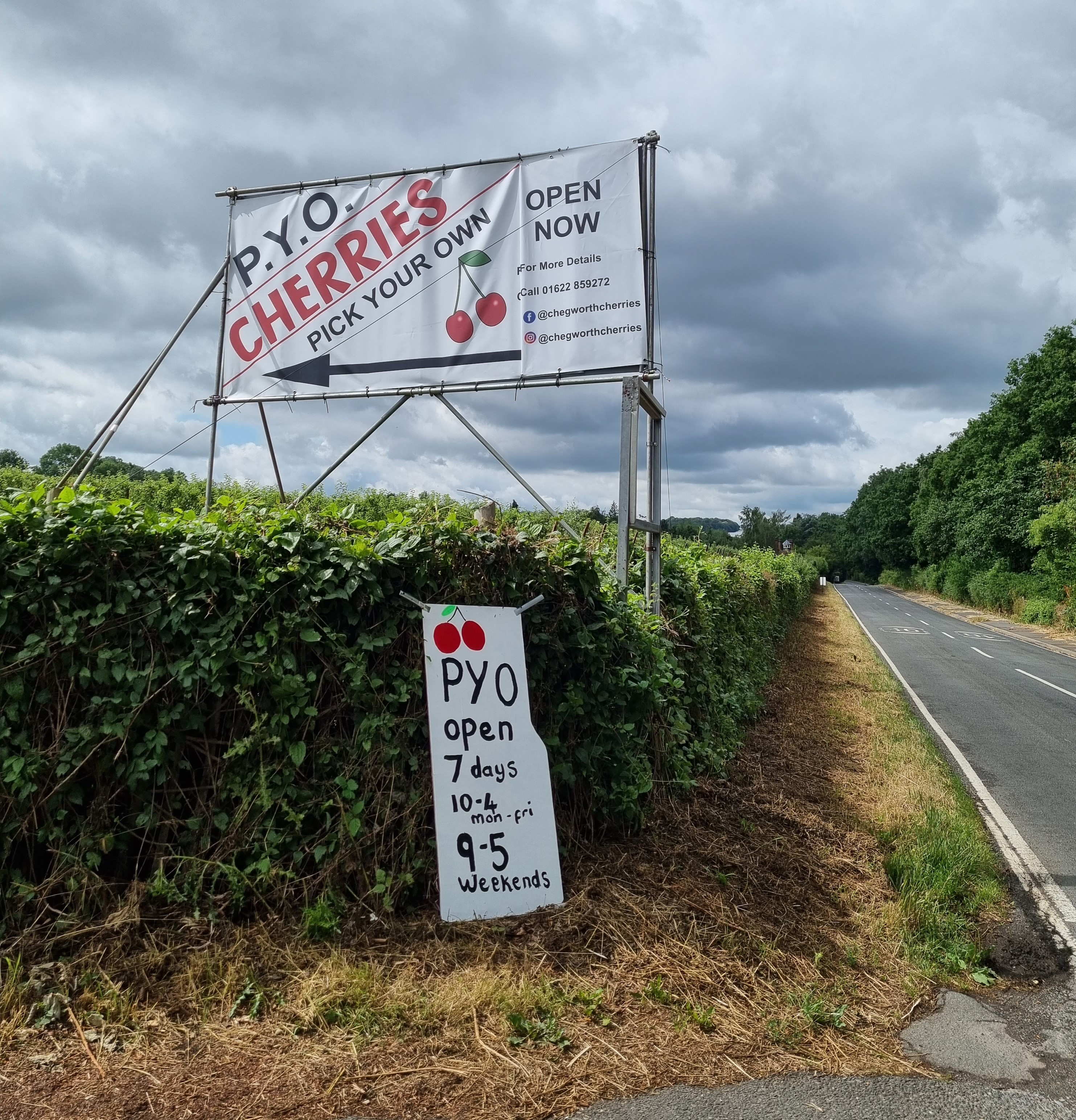 Our favourite local PYO destination is the Chegworth Valley cherry orchard at Wyngarth Farm in West Farleigh, near Maidstone. Cherry picking is a great family activity and the orchard's owners encourage visitors to bring their own picnics along. The terrain is flat, so it's baby-buggy friendly, and dogs (on leads) are welcome.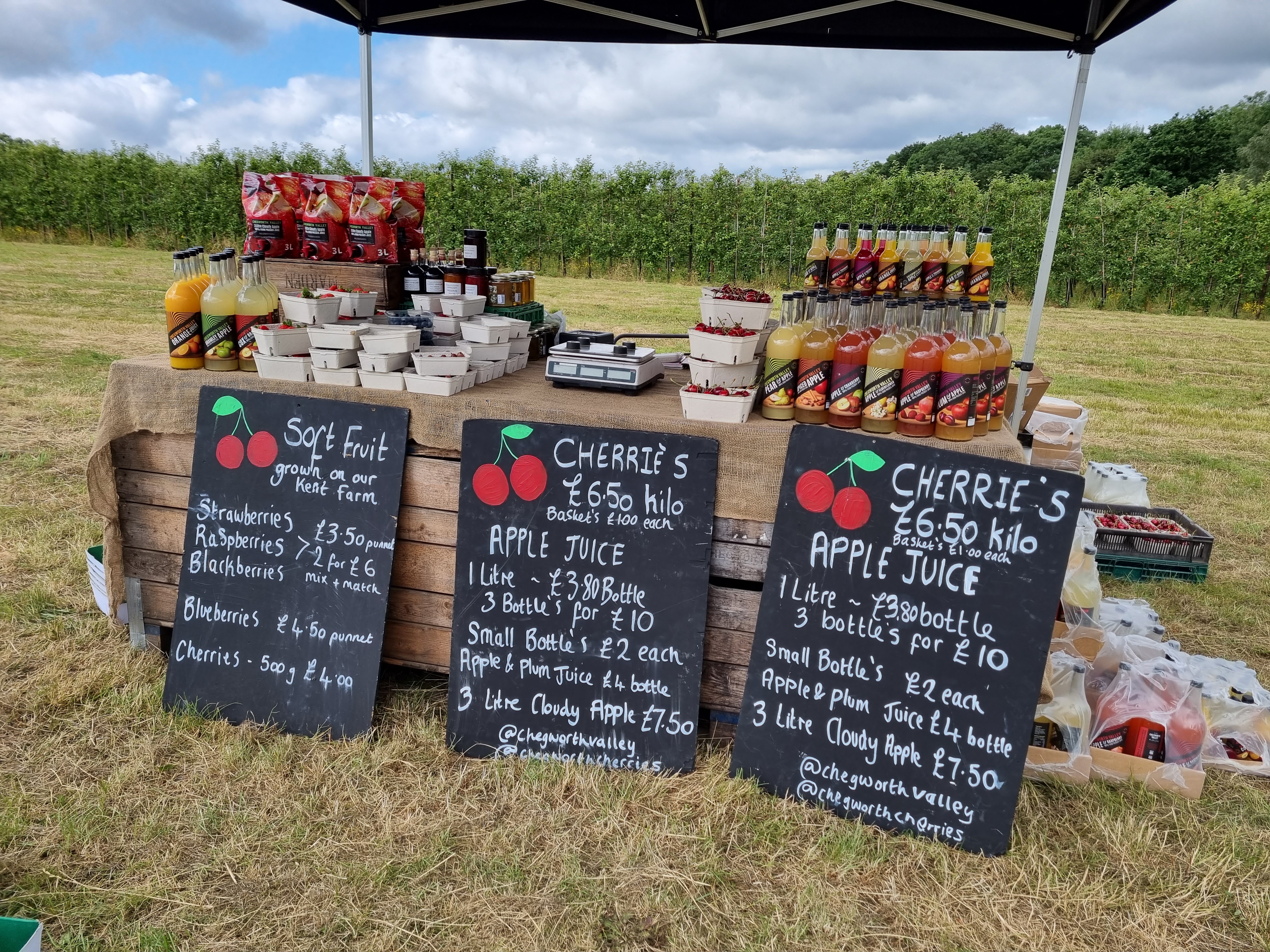 Upon arrival you simply purchase a basket (or baskets) for £1 each, head over to the avenues of cherry trees and get picking. While picking strawberries involves a lot of bending and crouching, cherries are much easier to pick as they mostly grow at between waist and head height. My wife and I picked 2.5 kg. of cherries between us in about half an hour.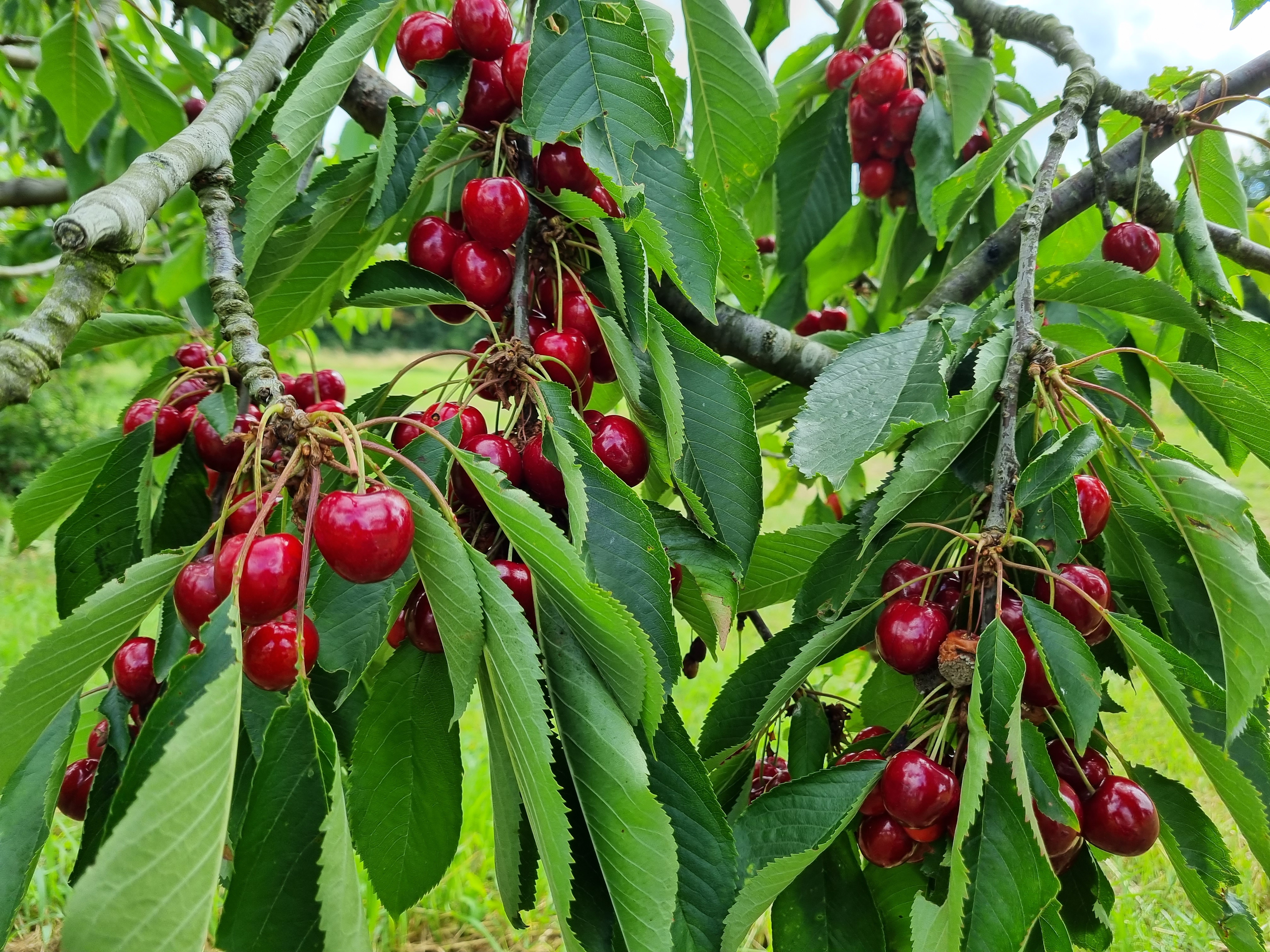 At Wyngarth Farm they also sell bottles of rich and velvety cherry juice. This is unsweetened and completely natural. Cherry juice is not only delicious but it also has certain health benefits. Its anti-inflammatory properties are beneficial for arthritis. It's also full of melatonin which helps improve sleep quality and it has been shown to reduce uric acid levels, thereby helping people who suffer with gout.
Yotes Court Vineyard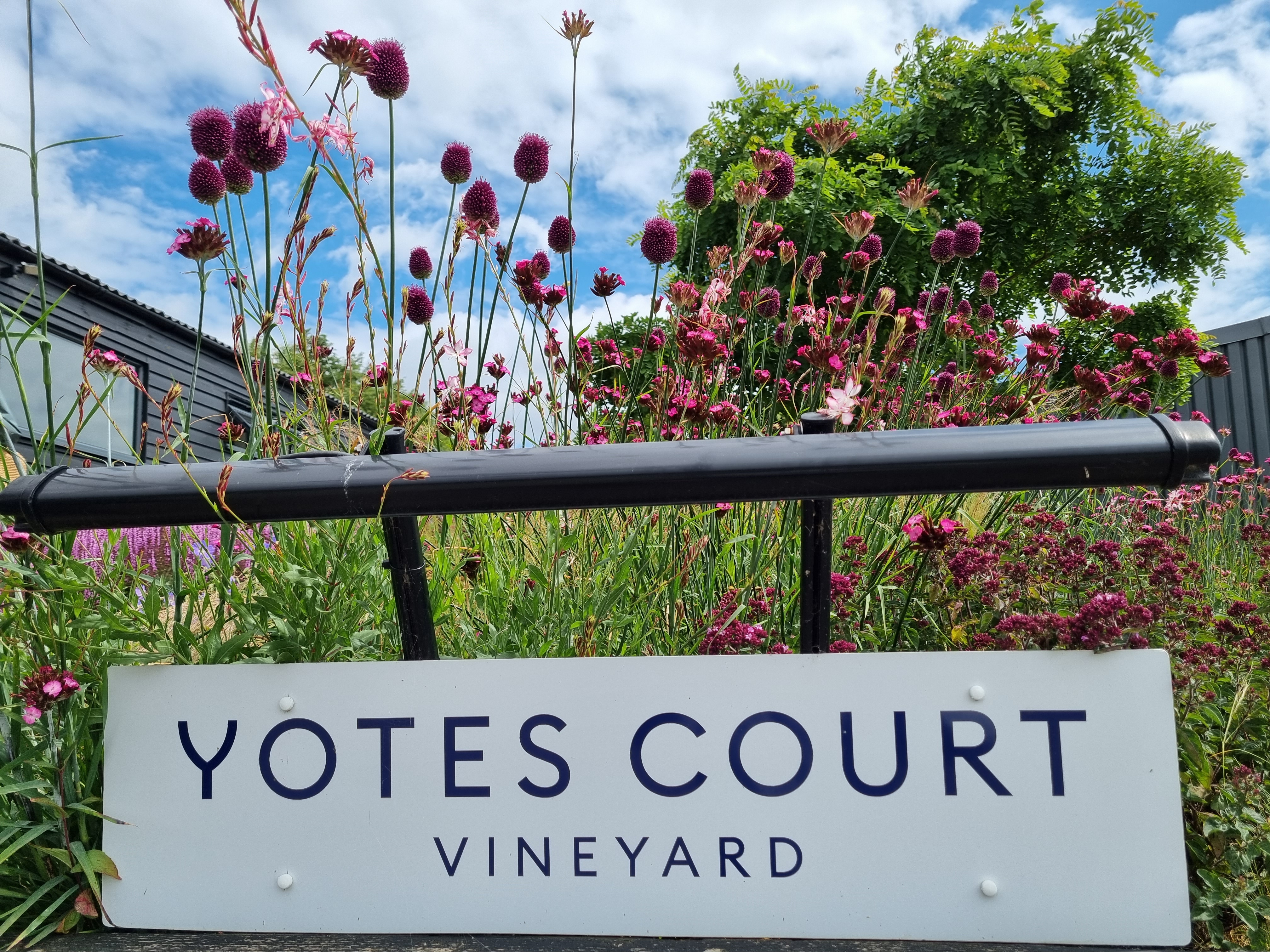 These days, Kent can justifiably lay claim to the title of England's Wine Country, as there are now more than 50 wineries in the county. With our cherries, plus some strawberries and a bottle of Chegworth's excellent Bramley Apple juice safely stowed in the car, we decided to head to Yotes Court Vineyard, near the village of West Peckham, to sample their latest vintages and get something to eat. This is a relatively new 70 acre vineyard, having been established by owner Susannah Ricci in 2016.
One of the attractions at this vineyard is the Paddock Lawn seating area near the cellar door. It's on a hill and so it affords a fantastic view out over the vines and the countryside beyond. It's a view that includes oast houses and, at this time of year, polytunnels, under which some which of England's best strawberries are grown, including those which are served up, with cream, at Wimbledon.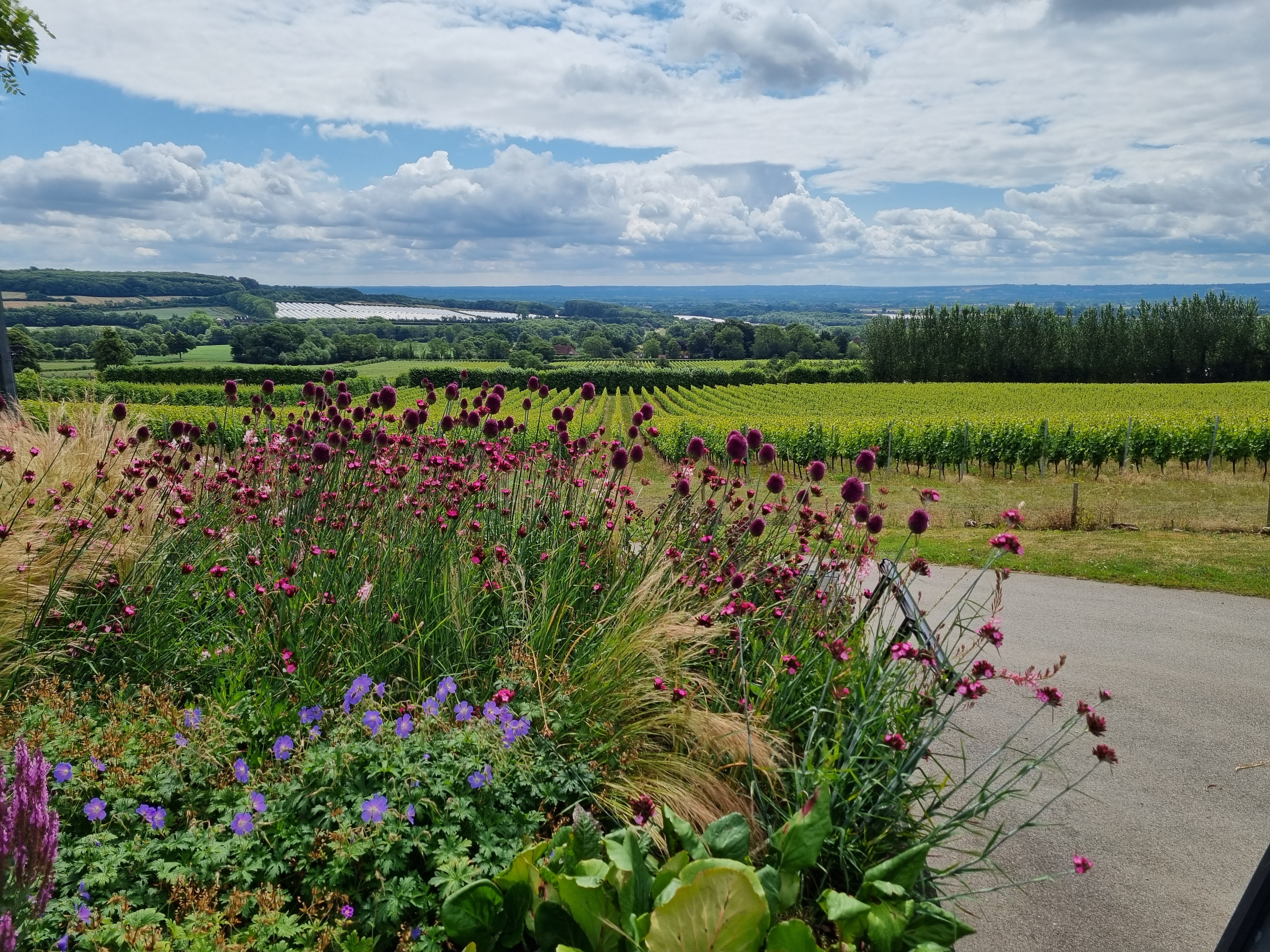 The cellar door team are very welcoming and we ordered a nicely chilled bottle of "Best Turned Out", a Pinot Meunier Rose, and found ourselves a table on the lawn. All of the wines the vineyard produces have names reflecting the owner's other passion – National Hunt Racing. Their Pinot Gris is called "Loose Rein" and their Bacchus is called "On the Nod".
Food options are mostly light platters of cheeses and charcuterie, designed to go well with the wines. We chose a cheese platter and a hummus platter, both of which were excellent, and got stuck into the wine while enjoying the view. The tasting notes for the wine say that it's the perfect partner to grilled lobster, summer risottos and Italian salads…so we bought another bottle to take home to find out if the tasting notes are right!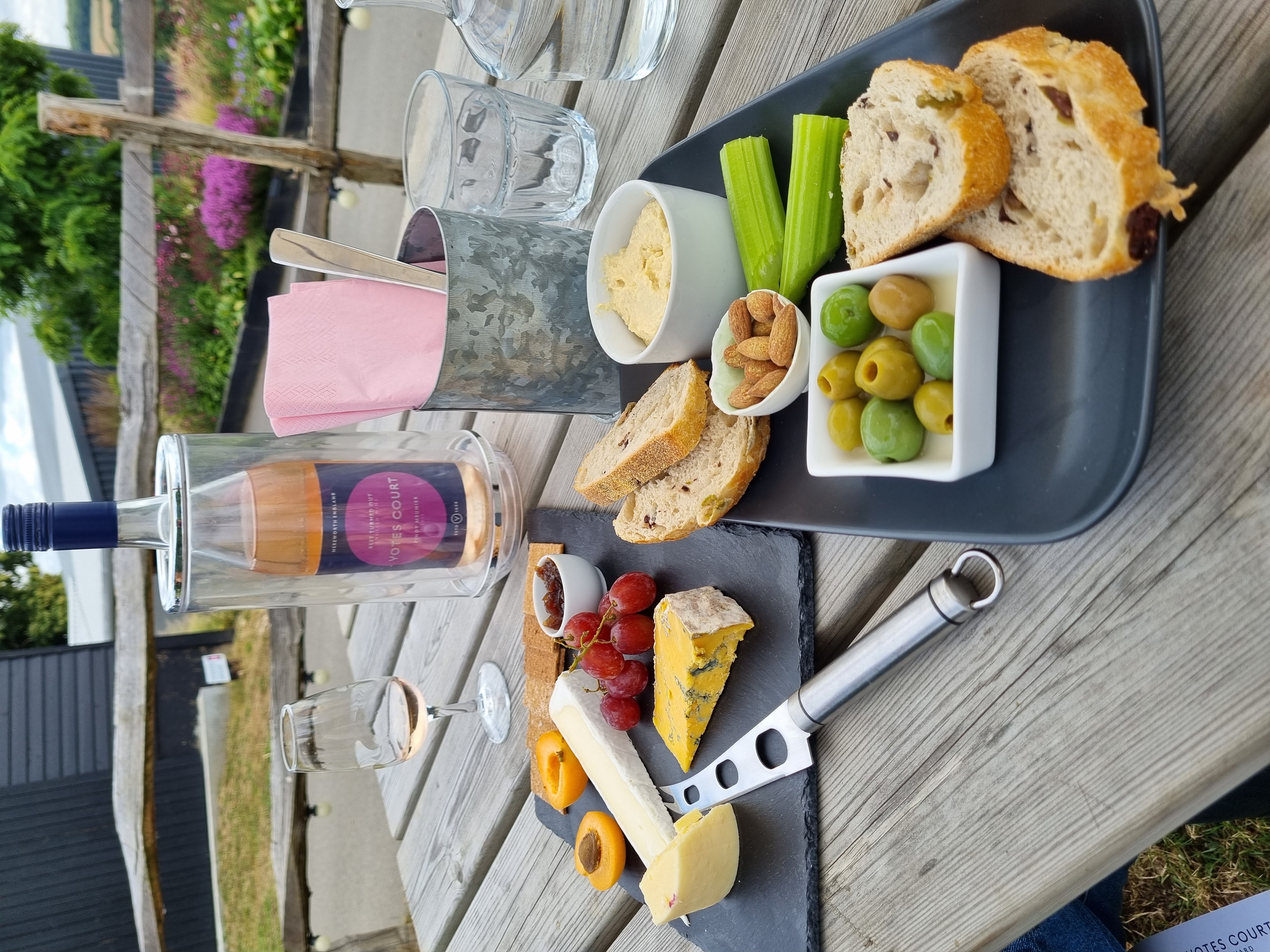 Getting Here
Wyngarth Farm is located at Lower Road, West Farleigh, Kent, ME15 0PF. West Farleigh is around 4 miles south-west of Maidstone.
Yotes Court Vineyard is located on Stan Lane, to the north of the village of West Peckham. The postcode is ME18 5JT.
There is another vineyard close by – Mereworth Winery, which also welcomes visitors. This is on the A26 Tonbridge Road, to the south of Kings Hill. The postcode is ME18 5JD.
Out and About in Kent
Read some of our other blogs about great places to visit in Kent:
Exploring Chartwell, the Home of Sir Winston Churchill