Take a Look at My Copywriting Portfolio
The easiest way to judge the abilities of a copywriter is to take a peek at his or her copywriting portfolio. I've assembled a few examples of my work for you which I believe showcase my skills and versatility as a B2B and financial copywriter.
Please click here to see some of the work in my copywriting portfolio (it's hosted on the clippings.me platform).
My Blog
I write blogs on all sorts of topics. These are not written for any sort of financial reward. I just enjoy writing – mostly about travel, interesting destinations and nice walks. If you'd like to read my blog, it's here.
Google Reviews
These days everyone likes to check out Google Reviews before making contact with a business. Please click here to see some recent 5* Google Reviews from clients about my copywriting work.
Here are a couple of them: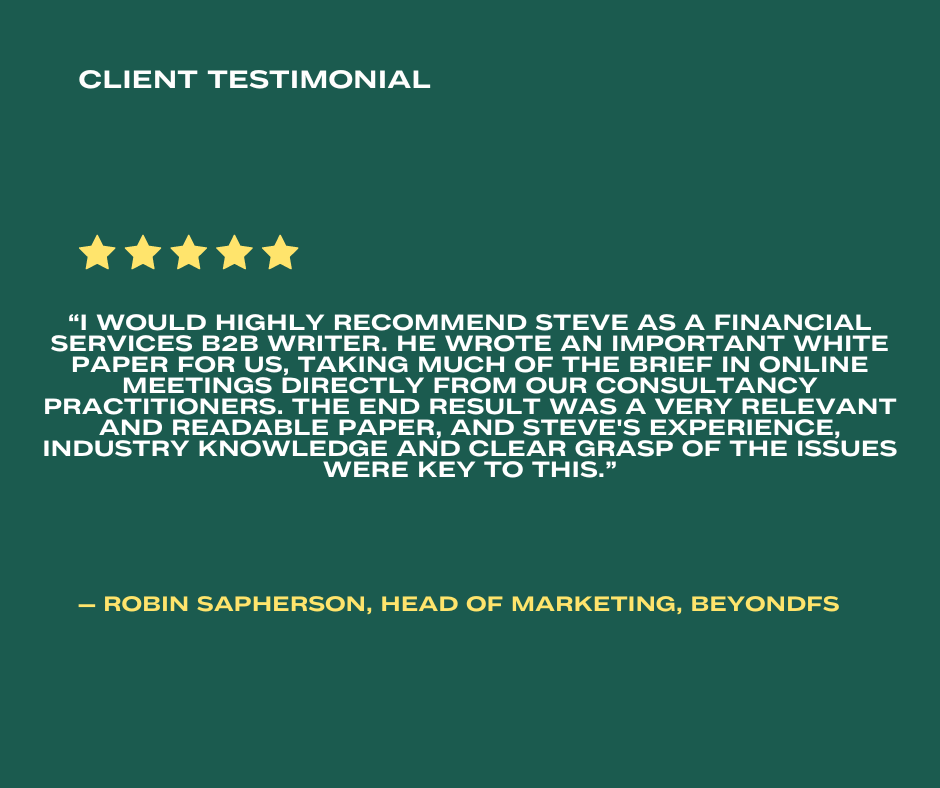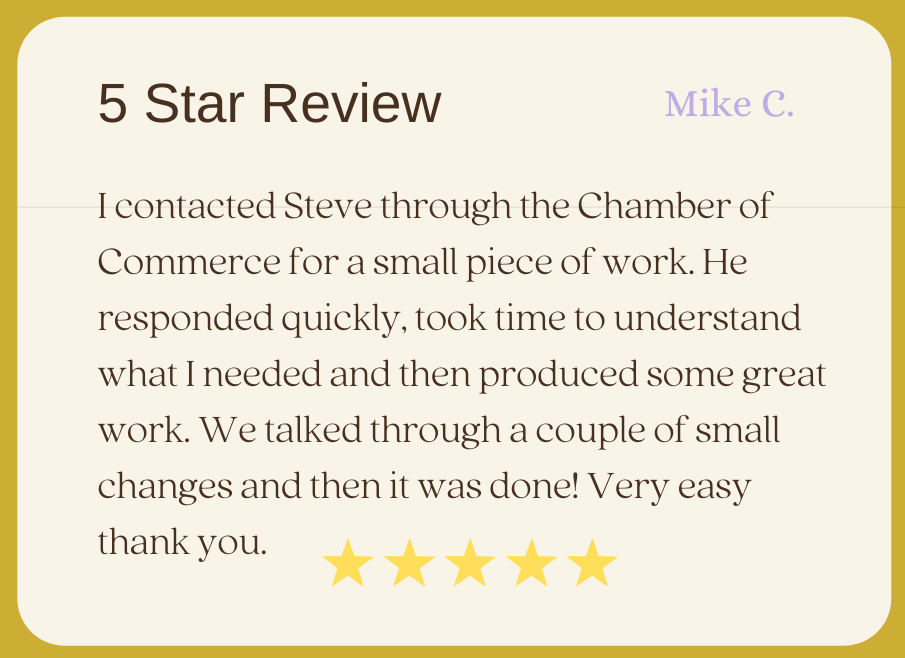 Client Testimonials
Here are some of the nice things clients have said about my work.
Annual Report for Bank of Bahrain and Kuwait
"Steve interviewed our Chairman, Chief Executive and all members of the senior management team, and then drafted copy for the key sections of our Annual Report. He was an excellent choice for this high profile assignment. He writes clearly and is very familiar with the banking industry – in the copy he was able to communicate BBK's business and financial highlights with great clarity. We will definitely be asking Steve to work with us again on other projects and future Annual Reports."

Rafa Kaddoura, Manager, Corporate Communications
Bank of Bahrain and Kuwait
Magazine Feature on Basel III
"Steve's contributions to our magazine and website are always carefully researched, thoughtfully compiled and clearly presented pieces. A recent article he did for the magazine on Basel III was one of the better pieces of writing that I have seen on this topic. Steve managed to simplify a complex subject and present it in a straightforward and very readable way."

Rebecca Brace, Editorial Manager
Treasury Today
Press Release for a Startup
"We asked Steve at Bishopsgate Copywriting to write a Press Release introducing our new website. Steve's help was invaluable. He offered many ideas and advice about how to tackle the Press Release and then produced the copy within a couple of days. We were thrilled with the result. Not only did Steve produce a professional piece of work but he used his knowledge and experience to build on our original specification and include concepts that we had overlooked. Steve is a pleasure to work with and I highly recommend his services!"

Corina Cheetham
Mudpool.co.uk
Interview Top Management Team at a Bank
"Responsible for copywriting a prestigious bank annual report, requested at short notice to interview top management and compile final drafts Steve Shaw was a brilliant choice. The job was delivered on time, on budget, exceeded expectations creatively and was in the exact style the Bank was looking for. I cannot recommend him more highly and will surely use him for all professional financial writing assignments in the future."

Lucinda Holland
Lucida Design
Company Newsletter
"We commission Steve at Bishopsgate Copywriting to prepare the company newsletter on our website. He does a great job for us – we just brief him on market developments, new products, staff moves, etc. and he does the rest. He's very easy to work with, turns things around quickly and we would recommend his copywriting work to anyone."

Julian Lyons, Managing Director
IMI Ltd.
Feature Series for a Local Magazine in Kent
"Steve writes the "Village Spotlight" feature for us and this has become very popular with our readers. Each month he covers a different village in West Kent or East Sussex. Steve always manages to put together interesting and very readable pieces covering village history, traditions, facilities and points of interest."

Joe Challis
Town Crier Magazines