A few weeks ago a Greek friend had recommended to us Ermoupoli on the island of Syros in the Cyclades as a really nice spot to spend a few days. He said it's more popular with Greeks than with foreign tourists and is beautiful but much less frenetic than islands like Mykonos and Santorini.
So, after a few very hot days in Athens recently, we found ourselves at the port of Piraeus looking at "Thunder," the boat which would take us to Syros.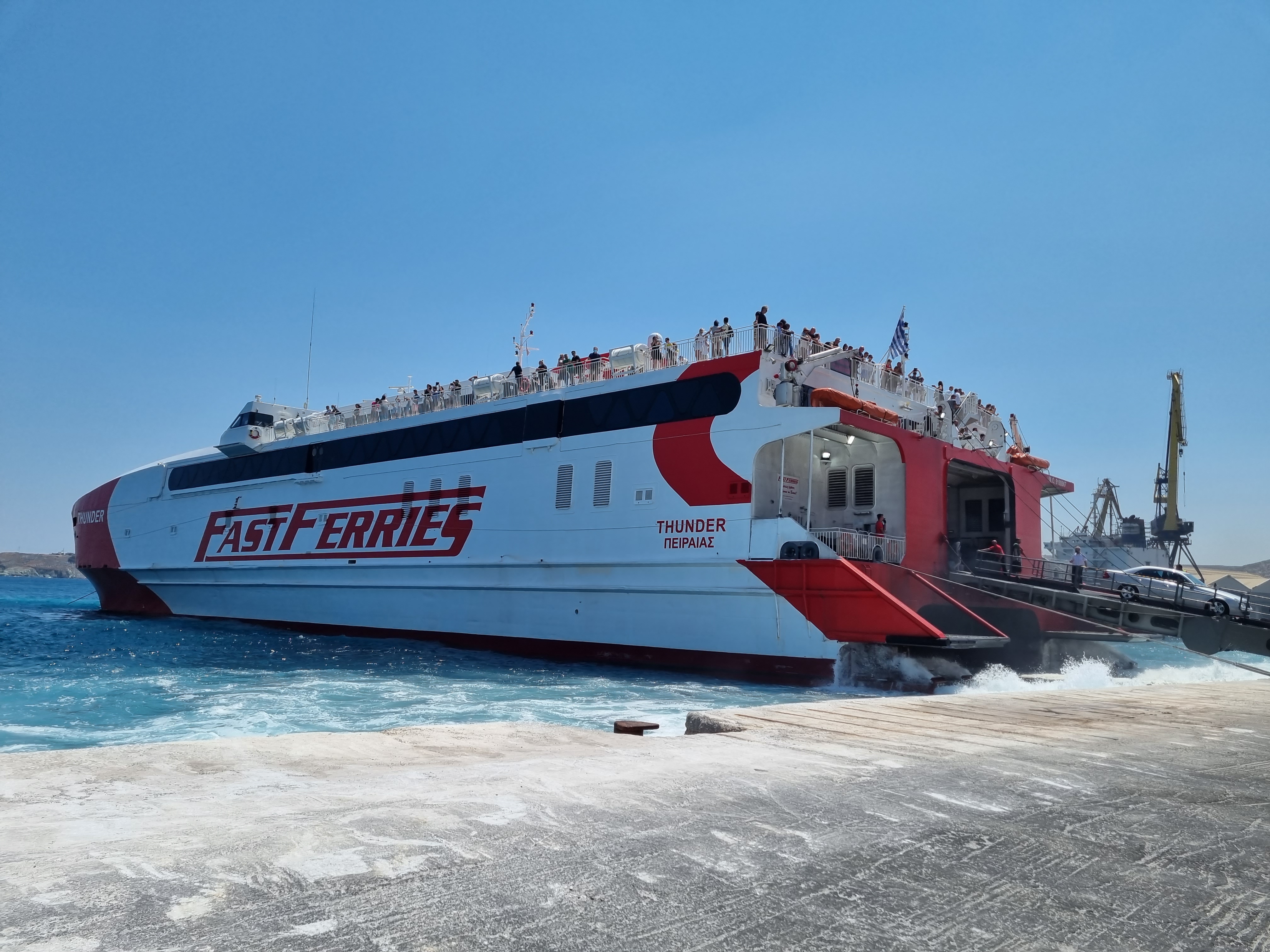 Thunder is operated by Fast Ferries and it's a magnificent and very well-appointed vessel. It took us to Ermoupoli, the main port on Syros, in just over 2 hours. As the boat approached the port, there was bit of a scramble as people headed down to the lower deck to retrieve their bags, but we were soon walking off the boat and along the seafront promenade. Time to find our hotel.
Ethrion
We had booked at a little place called Ethrion. To reach it involves climbing 75 steps up from the seafront and, with a suitcase to carry, this proved to be quite a good cardio workout. You soon learn that walking around Ermoupoli involves quite a lot of climbing steps. This explains why the town's older residents look so fit and healthy.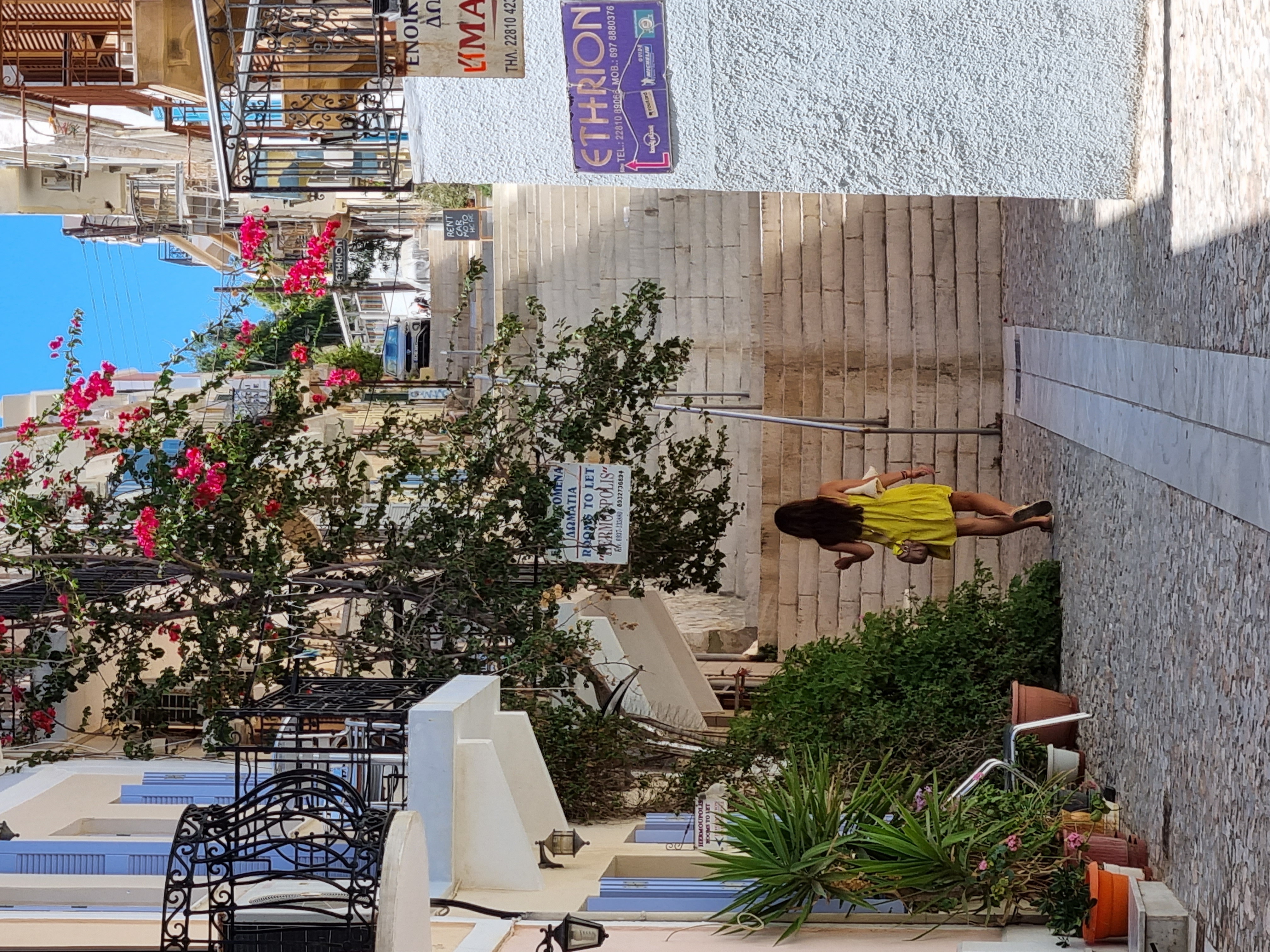 As we walked into the courtyard of Ethrion, we were greeted by the owner, George, who is delightful. Before we went up to our room, George sat us down, keen to tell us a little about the history of Syros. The island had been conquered by the Venetians in medieval times and they occupied it for several centuries. This is very much evident in the island's architecture and the fact that even today, almost half of the island's population are Catholics. Syros is sometimes referred to as the Island of the Pope.
George kindly lent us a book about the island's history and also gave us his recommendations for the best fish restaurants in Ermoupoli. These came in very handy.
Exploring Ermoupoli
The seafront promenade is, as you'd expect on a Greek island that caters to tourists, lined with bars, cafes and restaurants. It's great to sit at one of these places and watch the boats, ferries and yachts coming and going. Ermoupoli is a busy port and some pretty large craft drop anchor in the harbour.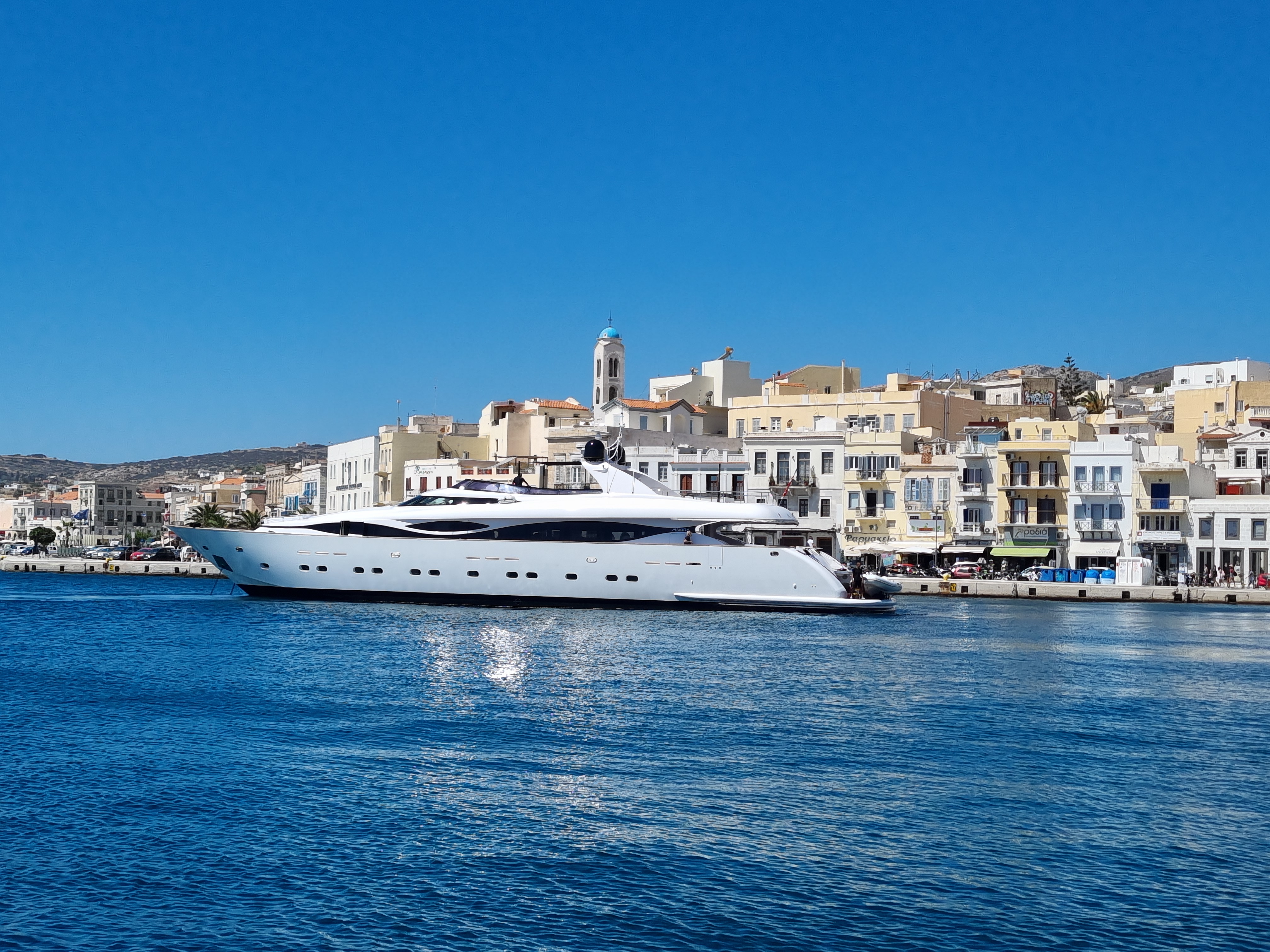 Right next to the ferry port is the Neorion Elefsis Shipyard, which I'm told has been repairing ships since 1861. We really liked the retro-looking Hotel Hermes at the end of the promenade and made a note to pay it a visit.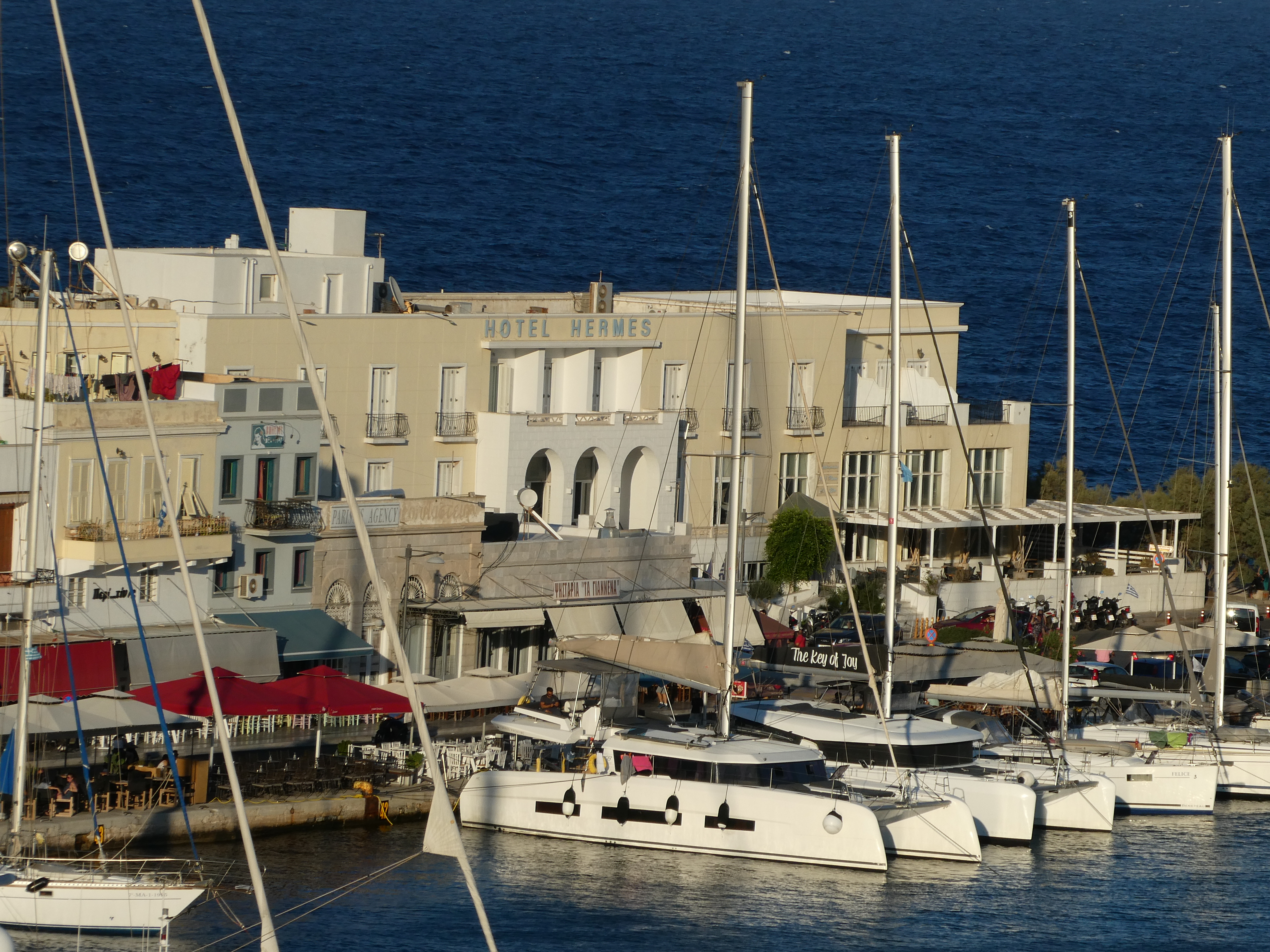 Ermoupoli itself doesn't have any sandy (or stony) beaches (although there are many in other parts of the island), but it does have a couple of large man-made concrete platforms at Asteria Beach from where you can swim. This area, in the Vaporia Quarter, is very popular and definitely the place to be seen during the summer months.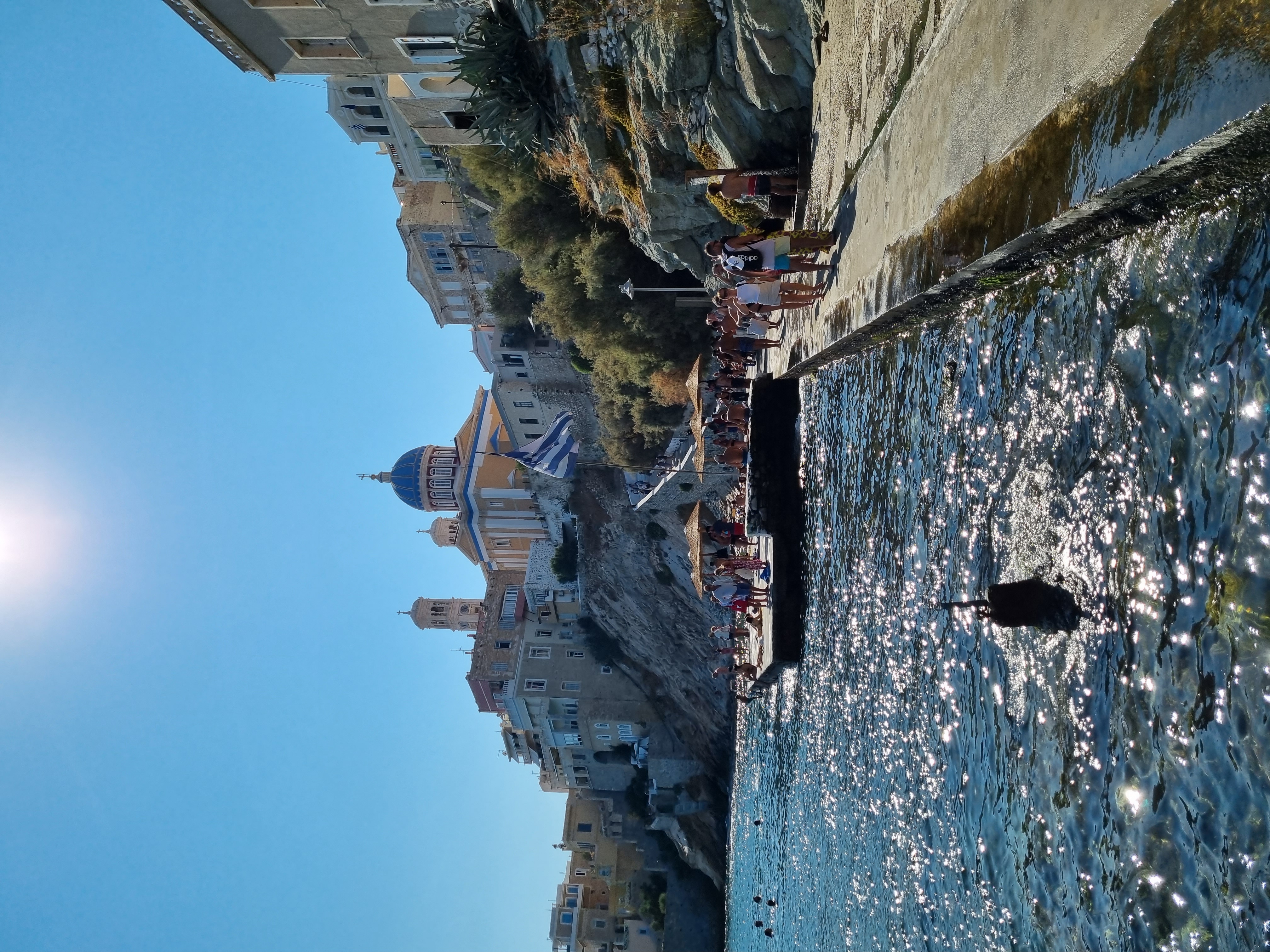 Around Miaouli Square
The area around the main square in Ermoupoli, Miaouli Square, is the beating heart of the town. The square itself is dominated by the imposing neoclassical Town Hall, designed by Ernst Ziller. This has marble floors and big oil paintings and houses the Archaeological Museum of Syros and the island's public service offices. On another side of the square you'll find the beautiful Apollo Theatre, built by Italian architect Pietro Sampo.
The grandeur of the Town Hall and some of the other elegant buildings in nearby Vaporia might come as a bit of a surprise until you consider that Ermoupoli is the administrative capital of the Cyclades islands. The wealthy ship-owners who lived in this part of town built some beautiful mansions.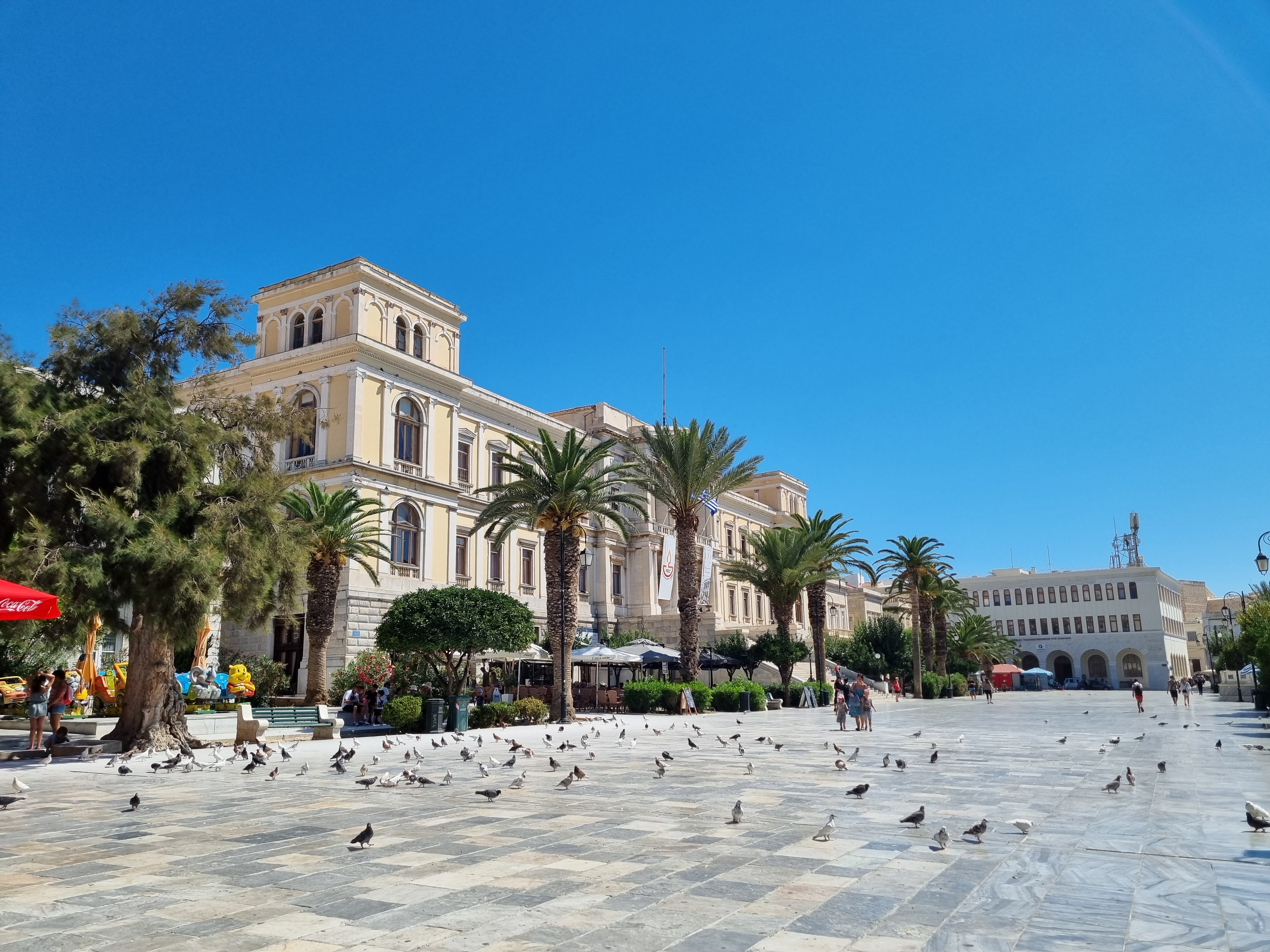 Shopping
Leading off Miaouli Square is the town market, which although not very big, is quite lively and has a nice selection of shops selling food, local produce and handicrafts. There are several sweet shops selling loukoumi, for which Syros is famous. Loukoumi is often known as Turkish Delight outside Greece. It's lovely stuff and we bought some boxes of it to take home as gifts.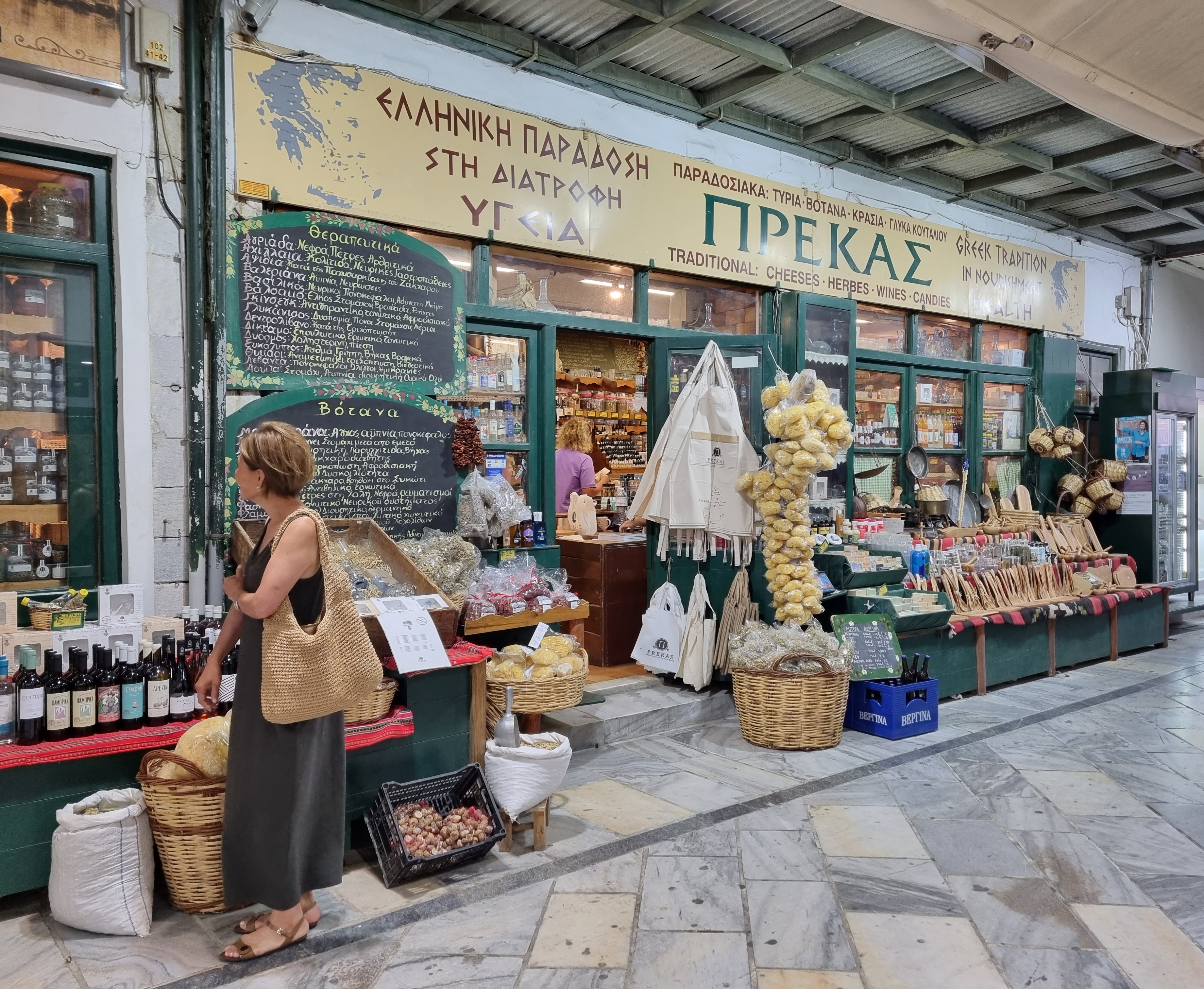 Between the seafront promenade and Miaouli Square there is a very attractive main shopping street with a nice array of boutiques, galleries, handicraft shops, specialist food shops, bars and cafes. This street really comes alive in the evenings, when the temperatures are cooler. The shops stay open until late, street musicians come out to perform and there are always lots of people out walking.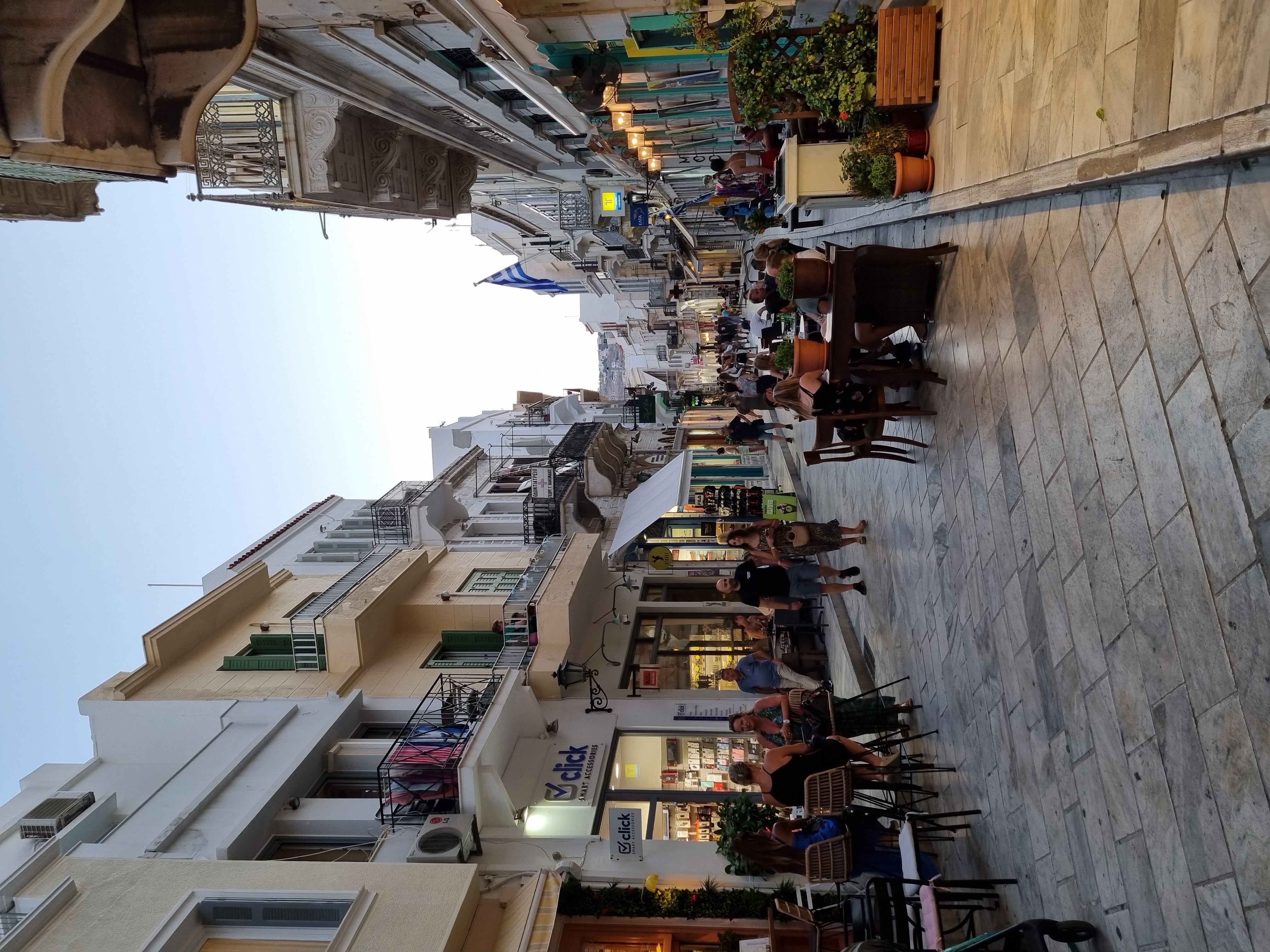 Stray Cats
When you get away from the harbour and walk around the back streets of Ermoupoli you can't help but notice the very large number of stray cats. Presumably these keep the number of rats and mice on the island under control. We were struck by the fact that the locals seem to look out for the welfare of the stray cats, as evidenced by the brightly painted feeding-stations that have been built for them.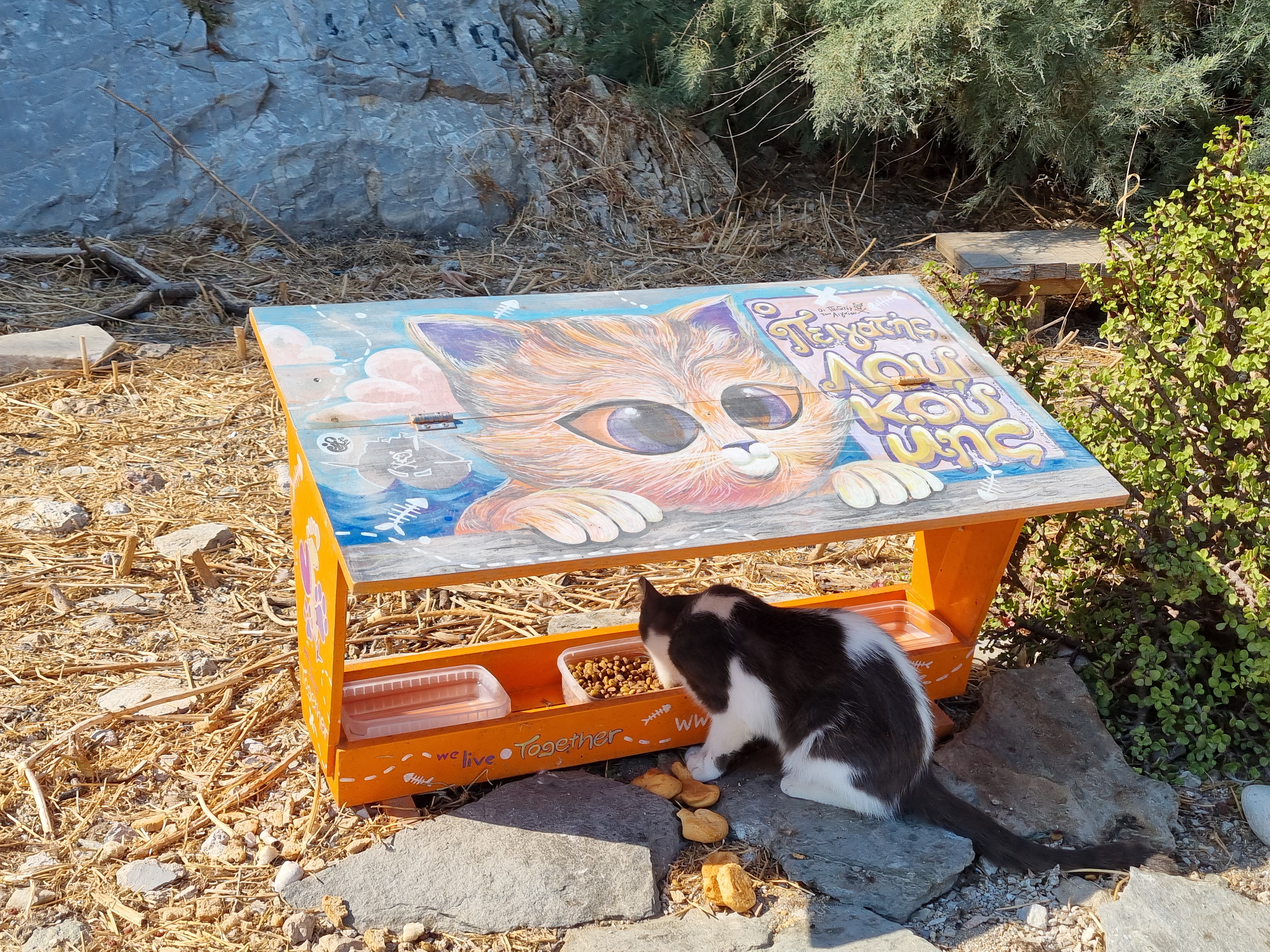 Beautiful Churches
Unusually for a Greek island, there is a roughly equal number of Catholic and Greek Orthodox churches on Syros. On top of the hill overlooking the town is the impressive, and very photogenic, Church of Agios Georgios, which is actually a Roman Catholic cathedral, built in the Venetian style. This is a peaceful complex and the church is wonderfully cool inside on hot days. The area immediately below is a warren of narrow bougainvillea-filled alleys where the houses are painted in white or soft pastels – very photogenic.
The beautiful Orthodox church of Agios Nikolaos, near the port, is well worth a visit, as is the Church of the Assumption of Virgin Mary, which is near the town's casino and has an original El Greco painting which dates from 1560.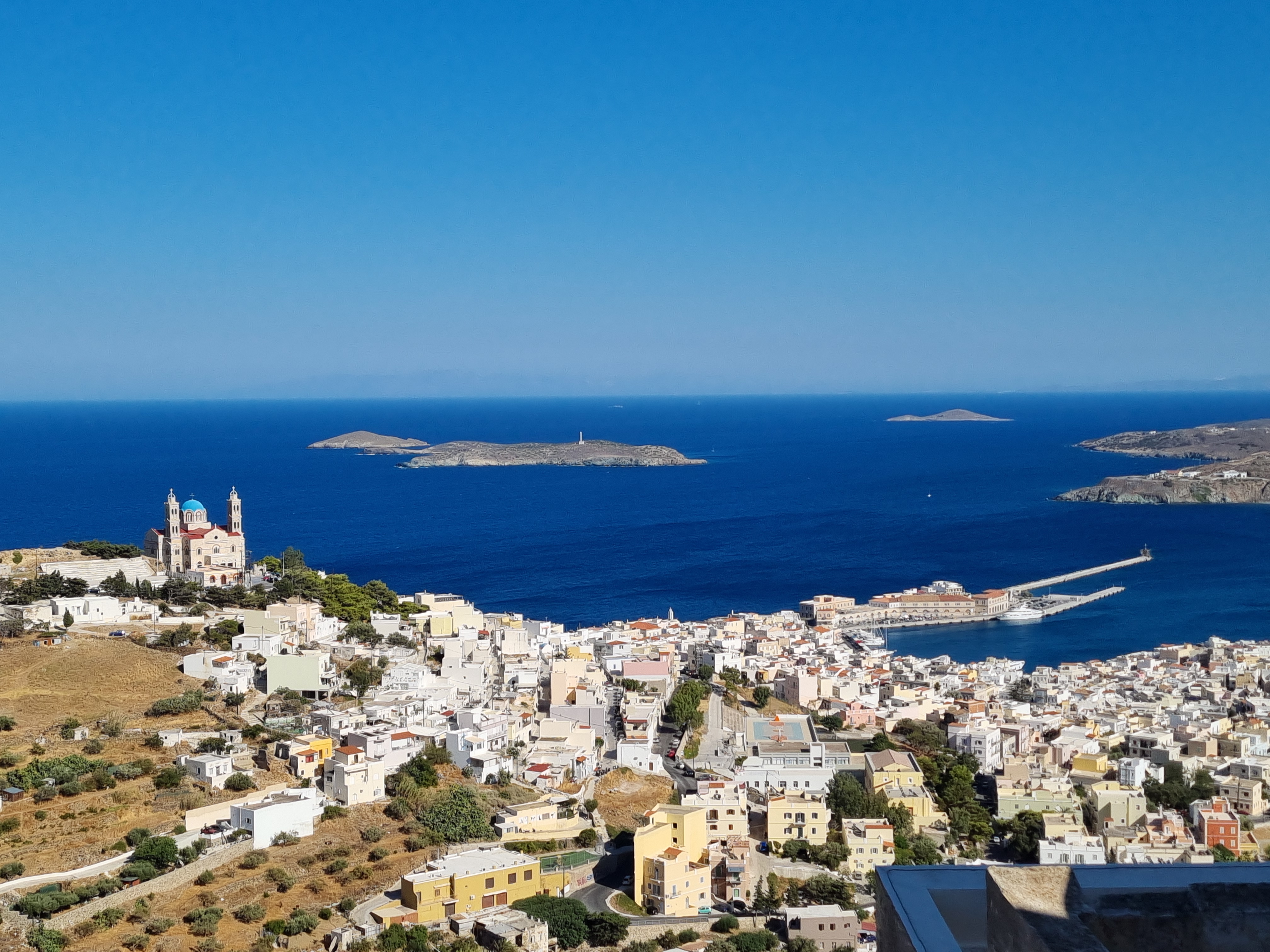 Ano Syros
Atop another hill that looks down on Ermoupoli is Ano Syros, and this really is a must-see. It's the oldest part of the town by far, dating back to the 1200s. This is a medieval settlement with narrow roads, a radial street plan and houses packed tightly together. It feels very much like a fortified citadel, which is indeed what it was. The inhabitants of Ano Syros are Catholic Greeks and they have had a turbulent history. Sitting right at the top of the hill stands the Catholic Church of Saint George.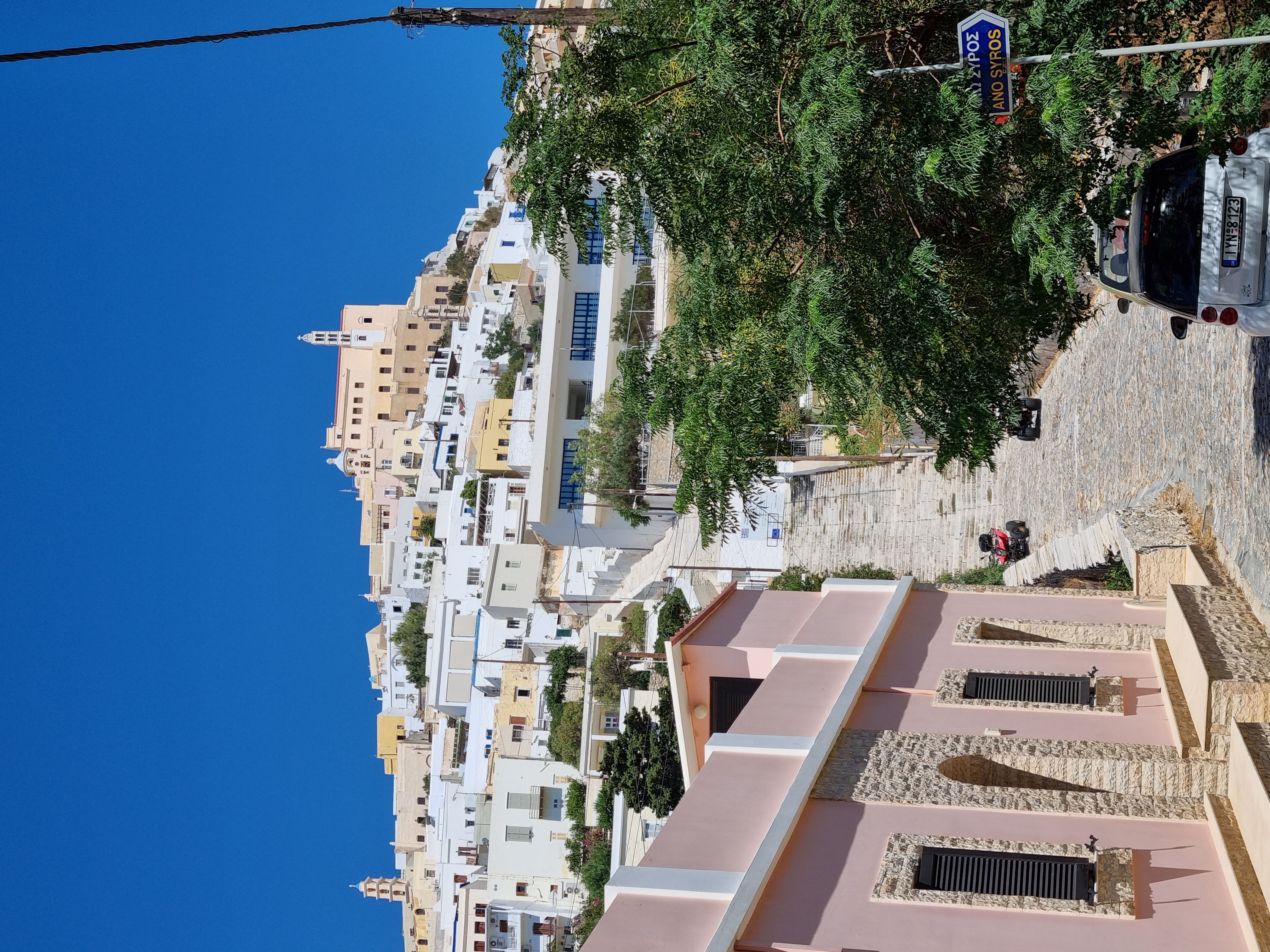 You get amazing views of Ermoupoli town and the Aegean Sea from Ano Syros. The area has a unique feel about it – quite different from the area at the bottom of the hill near the port. There are some charming bars and tavernas up there, many with rooftop terraces for drinking and dining.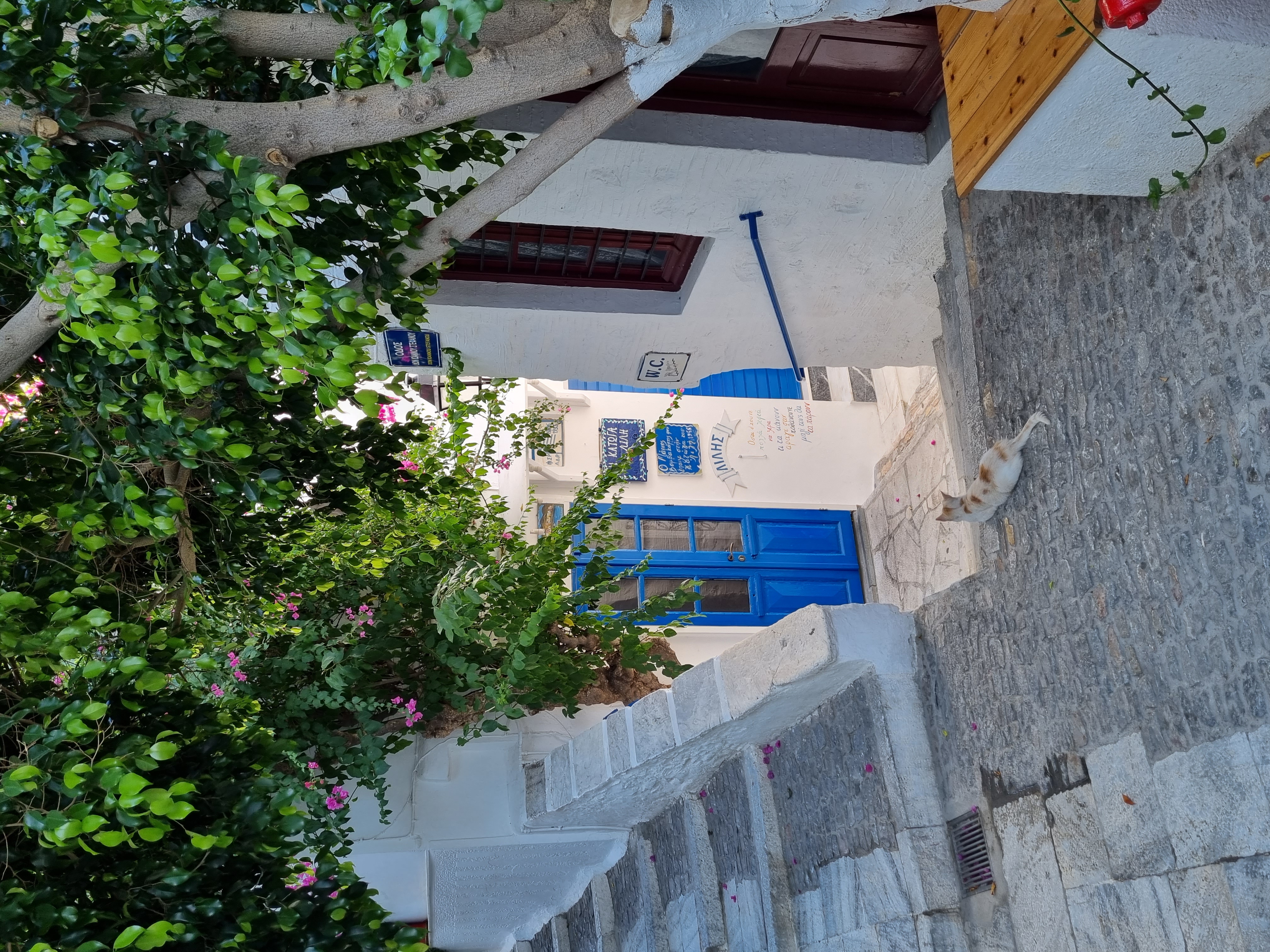 You can walk up to Ano Syros from the port, but it's a pretty hard slog, particularly on a hot summer day. My advice is to take a taxi up there. Go about an hour before sunset so you can explore a bit and then enjoy the views from a rooftop terrace with an Aperol in your hand.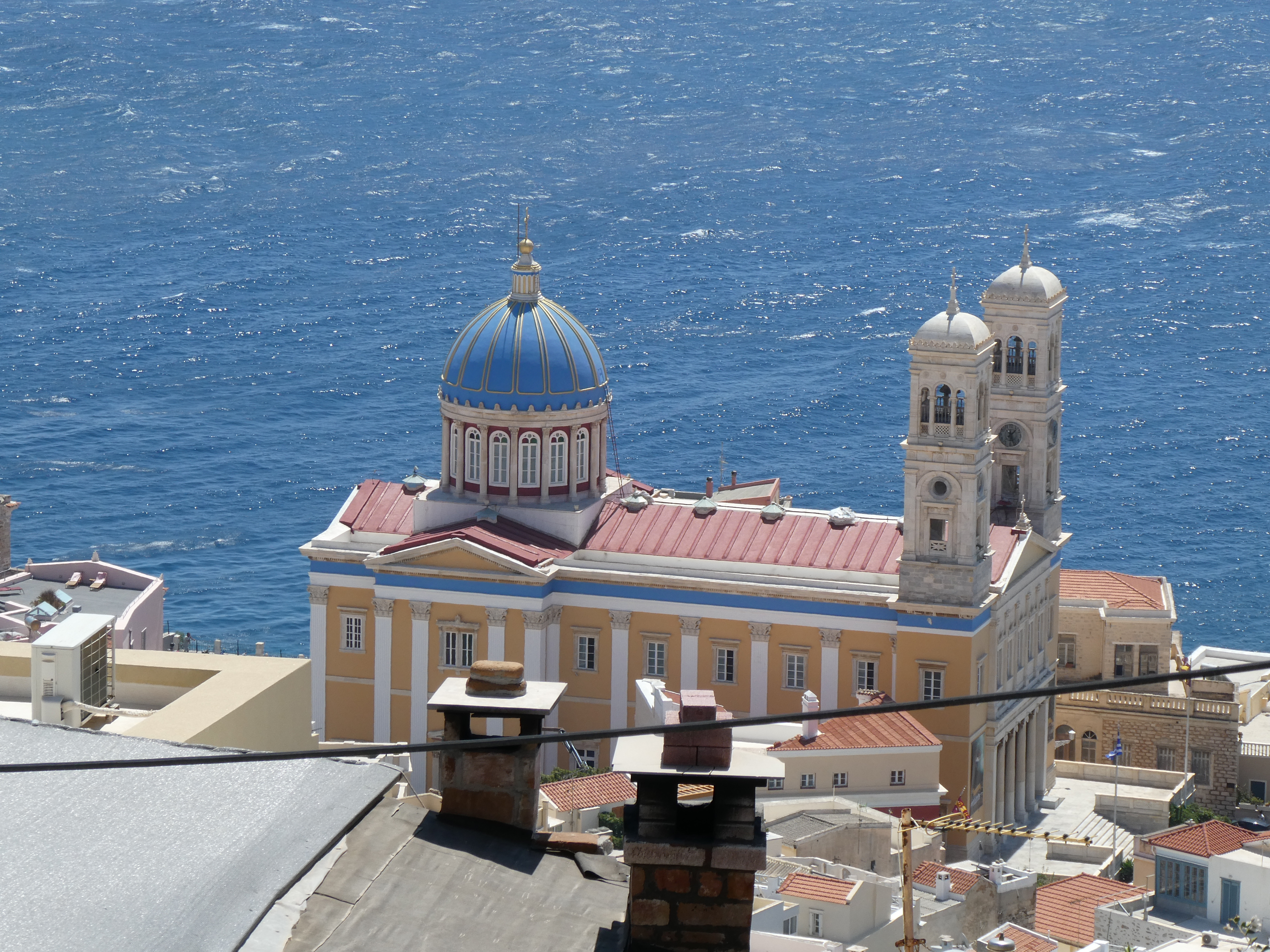 Dining Out in Ermoupoli
When it comes to dining out in Ermoupoli you're spoiled for choice, with restaurants and tavernas to suit all budgets. Having said that, we didn't see many non-Greek restaurants. But then you wouldn't really expect there to be, given that the local food is so tasty and the vast majority of visitors are from Greece itself.
On our first morning we chanced upon the Ellinikon Bistro, a charming old-school café which looks out onto Miaouli Square, and had breakfast there. It was so good we returned there a couple more times. It has an extensive menu and serves a fabulous Greek breakfast. A word of advice though – if you order the local fresh fruit and yoghurt bowls they're huge!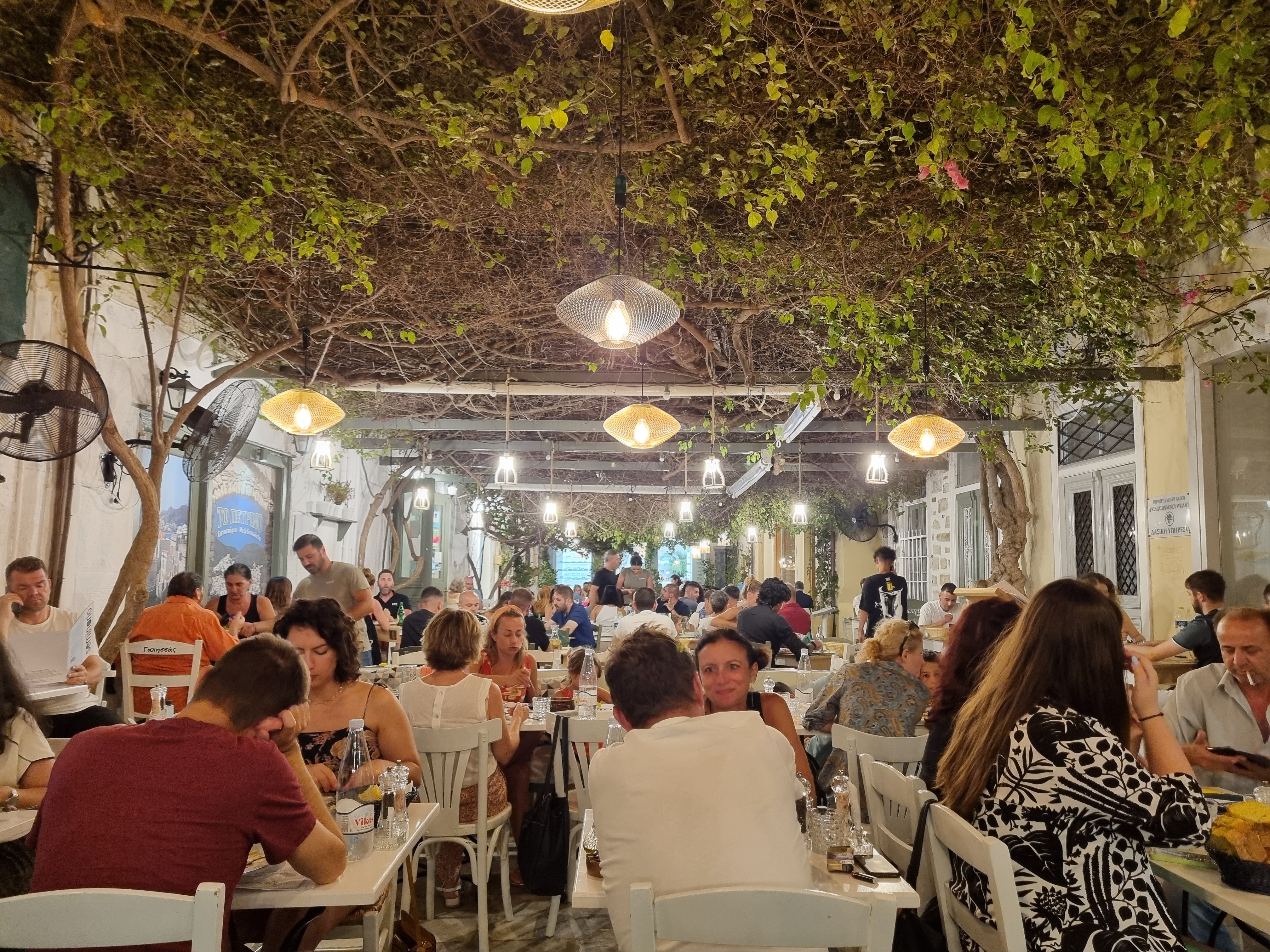 We found ourselves eating seafood every evening and I want to pick out a couple of places that we really liked. One was Seminario – so good we ate there 3 times in 4 days – and the other was Seariani, which serves top quality seafood. Both places are very busy and it's advisable to book a table. If you show up without a booking, you may be disappointed.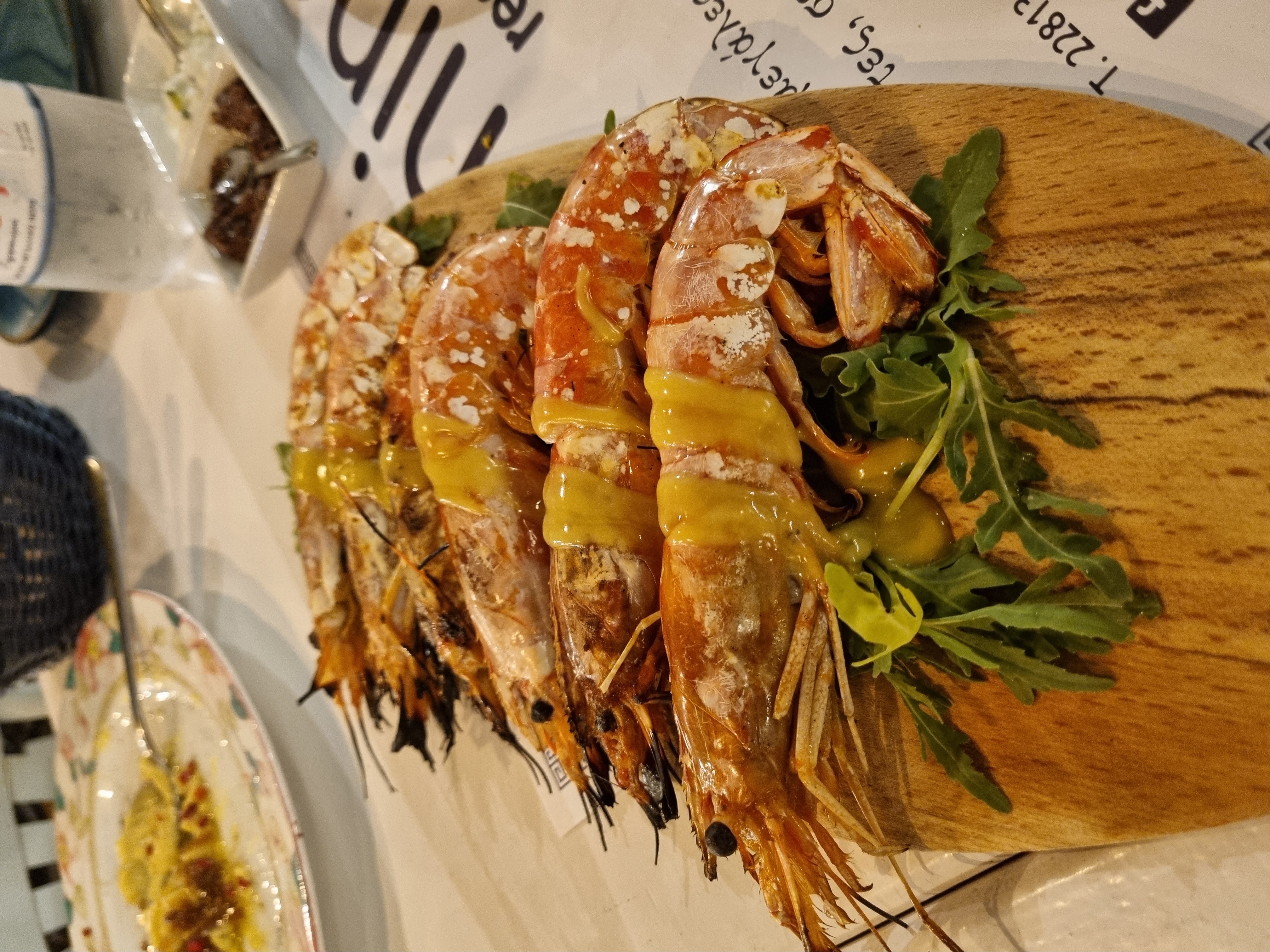 We also had dinner one evening at the Hotel Hermes. While the food was decent enough, the outside terrace is a fabulous place to have a drink and watch the sun go down. You can see the waves crashing into the platforms at Asteria Beach and in the far distance the twinkling lights of nearby islands are visible. Mykonos is only half an hour away by boat.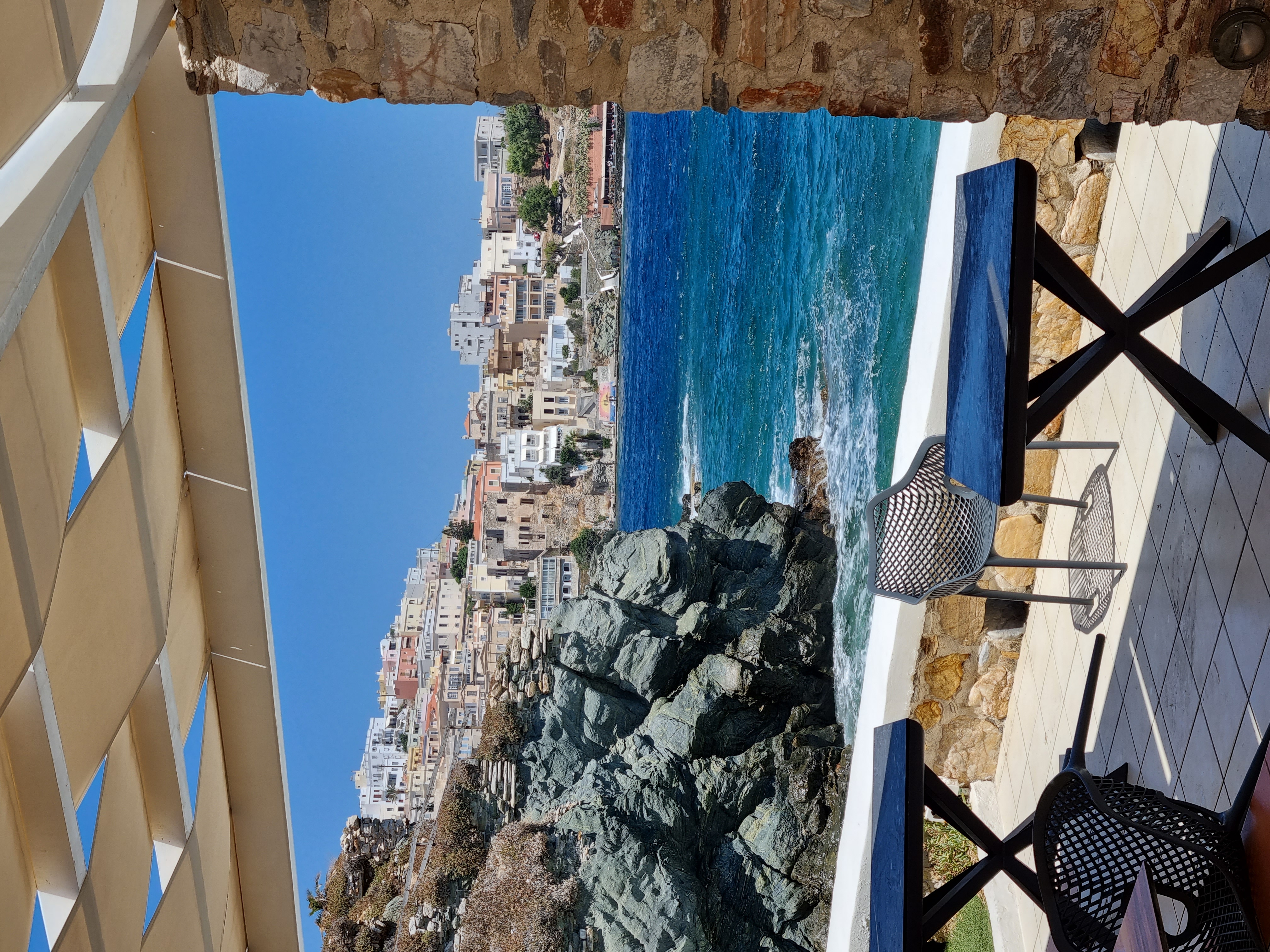 Put Ermoupoli on Your List of Places to Visit
With its interesting history, picturesque spots and great places to eat and shop you'll enjoy your visit. I wish we'd seen more of the island but actually found enough to do in the town itself during our 4 day stay.
If you're looking for a Greek island that's a bit different – all the charms that you'd expect, but without the crowds – a visit to Syros should definitely be on your list. It's a charming, low-key kind of place, which is exactly what you need if you've come to chill out in the Greek islands.