I specialise in financial copywriting work. But I'm very versatile and can handle a wide variety of other copywriting and editorial assignments too – I particularly love travel-writing.
The word-cloud below covers most of the different types of copywriting project you can send my way.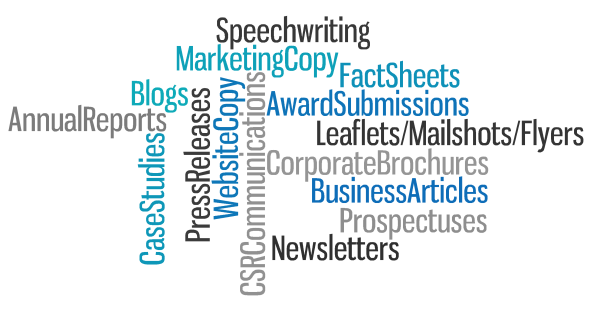 Website Copy and Content Writing
If you work for a large business, I'll write copy for you that hits the mark and is on-brand. If you work for a small business, I'll write copy for you that helps your business to grow.
If you're looking for someone to write compelling copy for your business – always written with SEO in mind – rest assured you've come to the right place.
Blog Writing
I'll write high quality, Search Engine-friendly 500-600 word blogs for your business. These will engage your target audience and help improve the ranking of your website on Google.
I can either write one-off blogs for you, if that's what you need – or if you're after a series of blogs, I can do that too.
Copywriting Review Service
If you've written your own copy, but aren't too sure about it, you might want to use my copywriting review service. I'll look over your work and give you suggestions for improvements. Or perhaps you're just finding a particular aspect of your copy a bit challenging. If that's the case, ask me for an hour of my consultancy time and I'll help you out.
This is a good option if you want to add a bit of extra polish to your copy without paying for the full copywriting service. Think of it like a schoolteacher marking your work!
Feature Articles
I'm not only a copywriter, but write in-depth magazine-style features as well. Having been a magazine editor and journalist, I know what it takes to produce interesting and engaging feature articles.
If you're looking to hire a freelance writer to produce longer pieces (of up to 2,000 words), I can help. Just outline for me what you're looking to have written and by when you need it.
Company Annual Reports
I offer an Annual Report writing service for businesses. Working closely with your in-house comms team, I will interview Board members and members of your senior management team, as required, to get their perspective on the company's performance and business highlights during the year. I will then write up their contributions in whatever format is required, so that these are ready for you to cut and paste into your annual report.
I can also write up any business updates, economic background and ESG content required for your annual report.
Business Leader/Employee Interviews
Perhaps you need a magazine interview conducted with a senior figure in your business? This is my speciality. I know what makes for a good interview and have years of experience framing effective interview questions designed to draw out the best responses.
As an "outsider" with no vested interest in your business, you can also hire me to undertake discreet feedback interviews with your employees. Give me a call to discuss your upcoming interview project.
Business Plan Copywriting
If you're starting a new business, I can help you to prepare your Business Plan. A well-written plan will help you to secure any financing you may need to get your business off the ground. I have an edge here over most other copywriters, as I used to be a commercial banker. So I know what banks are looking for when they review your business plan.
International Clients
I always welcome the opportunity to work with international brands. Let me know how I can help you. Perhaps you have some content that's been translated into English….but not very well. If so, I can give it a "polish" for you. I'll turn it into clear, perfect English prose.
UK Localisation Service
For businesses outside the UK which want to sell products or services in the UK I offer a UK localisation service. I can take your website content, product manual or any other type of text document and adapt it for the UK market. This ensures that to your target audience it appears to have been written by a local. This is very important because it builds trust and confidence.
Samples of My Work
Please click here to see some examples of my work. If you don't see the type of copywriting assignment you have in mind, give me a call anyway. There's a good chance that I'll be able to help you in some way.
Check Out the FAQs
Please visit the FAQs section for more information about fees, obtaining quotes, my Terms and Conditions and much more.