In a small way doing our bit
99% paper-free office
As part of our commitment to sustainability we print out virtually nothing. We send all copywriting quotes, drafts and invoices to clients electronically. We carry out all marketing activity for the business online.
Travel
This is a home-based business, which means that there are none of the carbon emissions that would normally result from regular commuting to a place of work. Nearly all client meetings take place online, which helps to reduce pollution.
Sustainable handling of food waste
Copywriters drink a lot of coffee! We compost all coffee-grounds, as well as fruit and vegetable peelings, in the garden. We then spread the compost on our organic vegetable patch (pictured below).
For a simple, step-by-step guide on how to create a vegetable patch in your own garden, click here.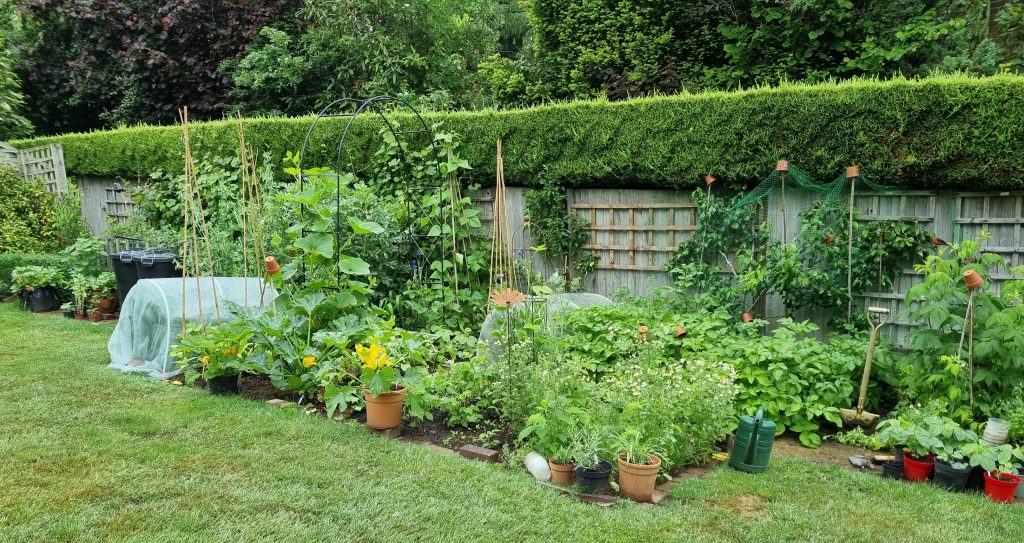 Renewable energy
All of the electricity consumed by this business comes from 100% renewable sources. (This is according to the marketing people at our energy supplier).
Protecting the natural environment
We're committed to helping protect the natural environment. We're proud to support the excellent wildlife conservation work being done across Kent by Kent Wildlife Trust.
Copywriting for charities
We sometimes provide copywriting services to certain charities at no cost. We do this for charities that have a core focus either on sustainability or on protecting the vulnerable.
Acting local
As part of our commitment to sustainability, we purchase business supplies and other services, wherever possible, from local vendors. This keeps the money circulating within the local economy.
We've also made a small financial investment in the Kent wine industry. Kentish wines are now some of the best produced anywhere in the UK. Wine experts are predicting that our local wine industry will go from strength to strength in the years ahead. We certainly hope so.
Blogging about sustainability
We write B2B blogs for several clients who operate in the green economy. These focus on sustainability, biodiversity and recycling. You can see some of them on our portfolio page.
The Bishopsgate Copywriting blog also has several pieces (written in-house) on sustainability topics. We don't write these for financial gain. We write them purely because looking after our planet is a very important topic for us all. Here are some recent ones:
A Roadmap to Sustainability for Small Businesses
Small Businesses Need to Up Their Game on Sustainability and Ethical Sourcing
Healthier School Meals for all Children