If you follow my blog, you'll know that I take a keen interest in the Kent vineyard scene. I recently broke ranks and slipped unnoticed across the county border into Sussex to check out the Kingscote Estate and Vineyard.
Some friends in London had organised a walking day in West Sussex last week, loosely following the bucolic route of the "Gravetye Circular" in the High Weald. The route takes you past historic houses, lakes and vineyards and through lots of natural woodland. Knowing of my interest in local vineyards they kindly invited me along. The opportunity to call in at the Kingscote Estate was not to be missed, even if it meant a 7 mile walk on a hot June day! Our walking route actually took us through Kingscote twice.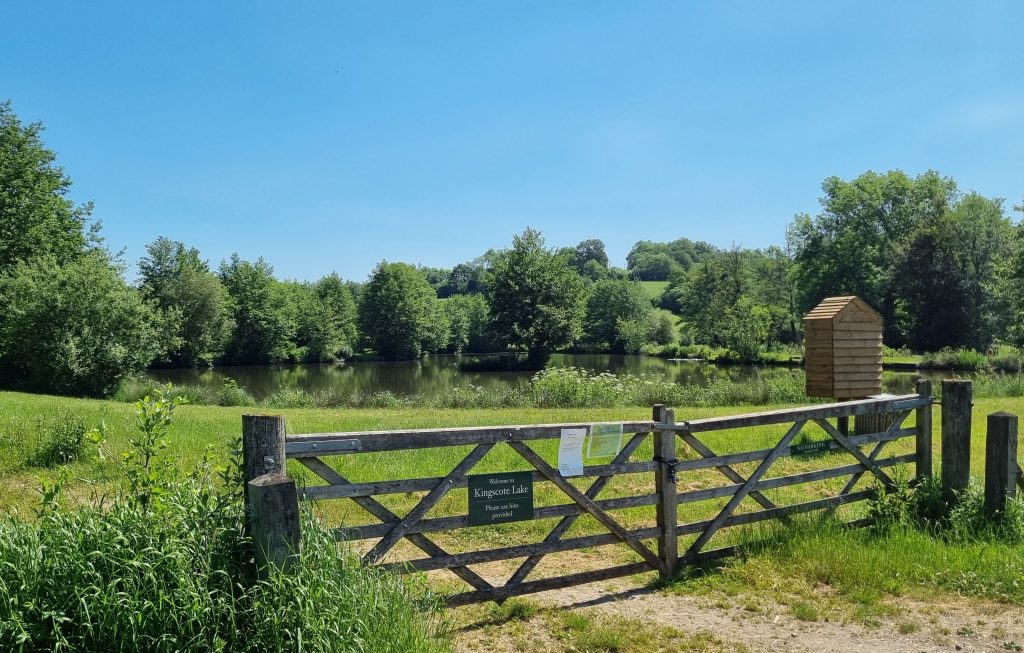 The Kingscote Estate is in the Kingscote Valley, close to the historic Bluebell Steam Railway and the Weir Wood Reservoir. The vineyard's visitor centre is inside a very striking 15th century tithe barn. Interestingly this was originally located, as many good things are, in Kent, and was brought piece by piece to Kingscote and reassembled there.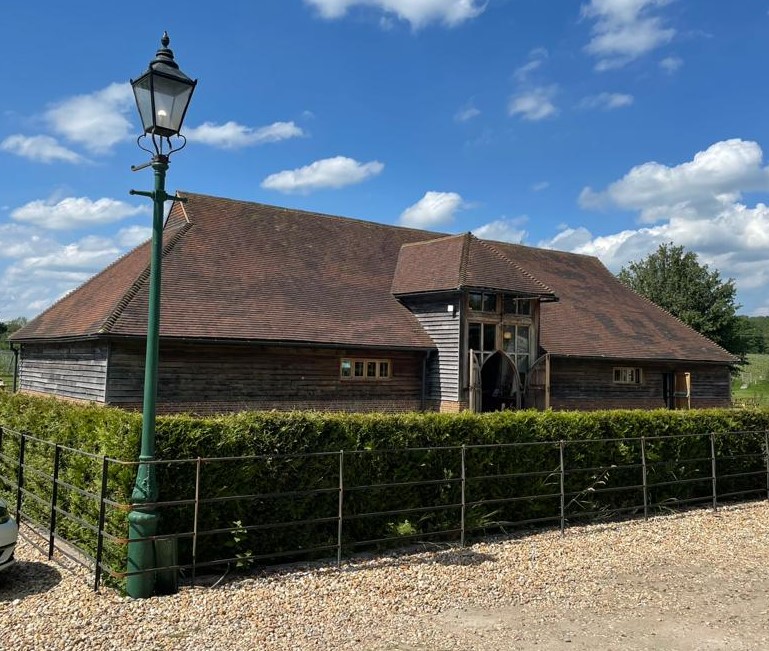 The family-owned estate covers about 160 acres in total, which includes over 70 acres of vines. Apart from the usual vineyard tours and wine-tasting events, the size of the estate means that they can also offer visitors an interesting range of country pursuits including shooting, fishing and truffle-hunting.
Three still white wines are produced at Kingscote – a Bacchus, a Silvan Bacchus (their signature wine) and a Chardonnay. Their sparkling whites are a Sparkling Brut and a Brut N.V. They also produce a Rosé and a Sparkling Brut Rosé. Their premium sparkling cider, Cyder N.V., is produced from apples grown in the Estate's orchard.
Onward to West Hoathly
After our initial swing through the estate, we carried on walking for an hour or so until we came across "The Fox", an attractive inn in the small village of West Hoathly. We ate a hearty lunch there, which was washed down in my case with a pint of chilled Silly Moo Cowfold cider, also produced in Sussex.
Back on the walking trail again we passed through acres and acres of beautiful woodland and crossed many a field before reaching Gravetye Manor, a luxury country hotel which looks, from a distance, very upmarket indeed.
Before we had set off on our walk, we briefly considered Gravetye Manor as a possible lunch stop. But a quick Google search revealed that the (Michelin starred) three course seasonal lunch menu there is £60 a head. We also thought it unlikely that they would let scruffy walkers wearing shorts into the restaurant. We'll just have to come back another day.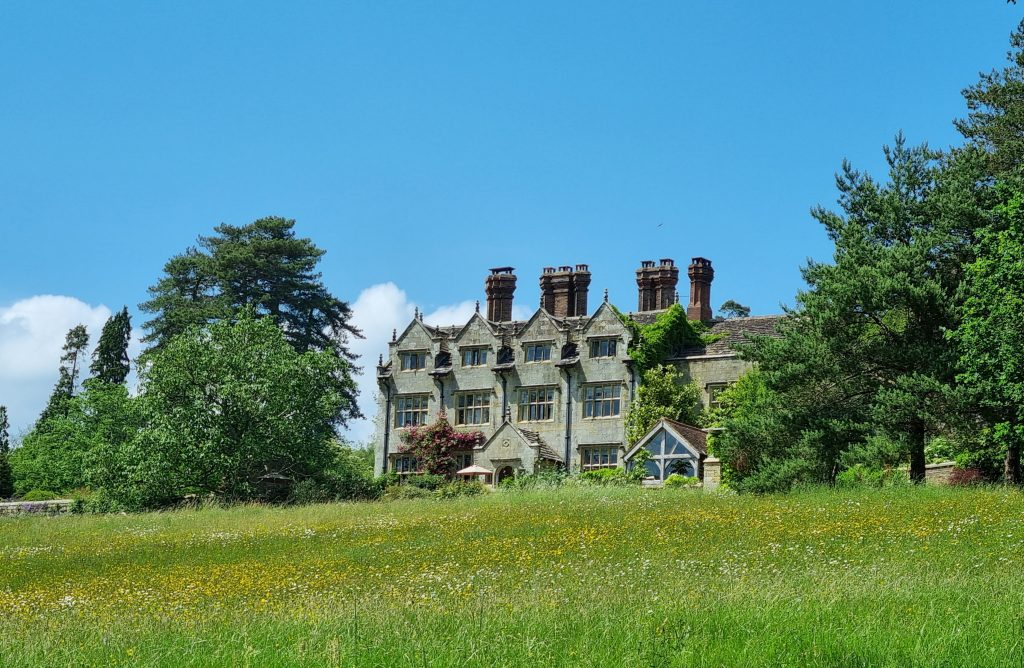 We walked on, encountering several groups of lost young souls wandering in the woods. These turned out to be students on their D of E expeditions – there seemed to be lots of fretting over Ordnance Survey maps, which is perhaps not surprising for a generation raised with mobile devices.
Back to the Vineyard
In the middle of the afternoon, as we began to tire, the Kingscote Estate fortunately hoved back into view. We passed under the Bluebell Railway bridge and headed straight through the visitor centre for the large outside terrace for drinks.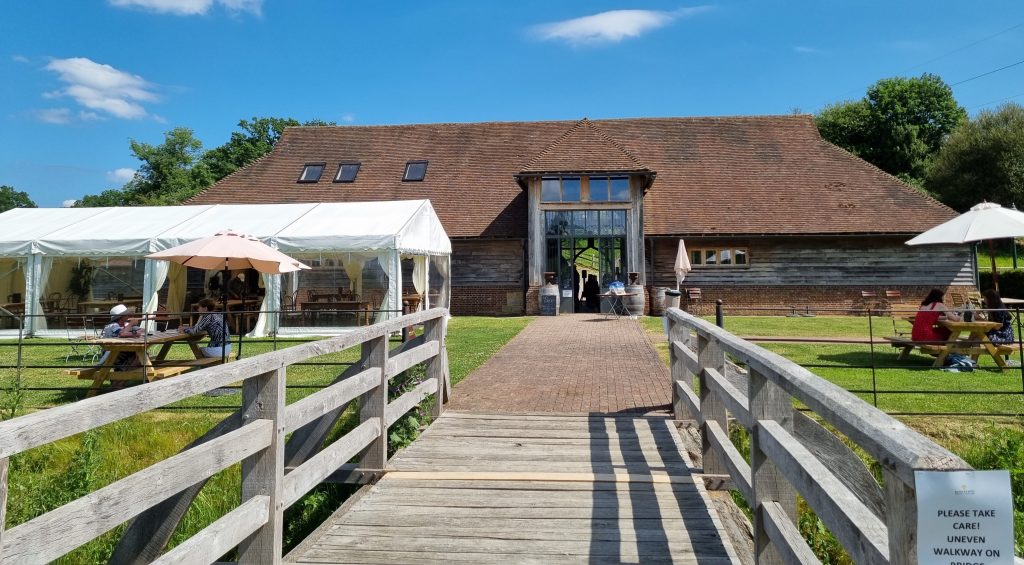 My walking buddies opted for iced fruit juices, a sensible choice indeed on a very hot day. I plumped for a glass of the Kingscote Chardonnay and it's an excellent tipple, albeit £7 for a modest glass. The only problem was that it wasn't served chilled, which was a bit unsatisfactory if I'm honest. But being British, I didn't complain – much better to moan about it later in a blog!
The visitor centre shop is very well stocked and I purchased a bottle of their Sparkling Brut Rosé (£20) to take home.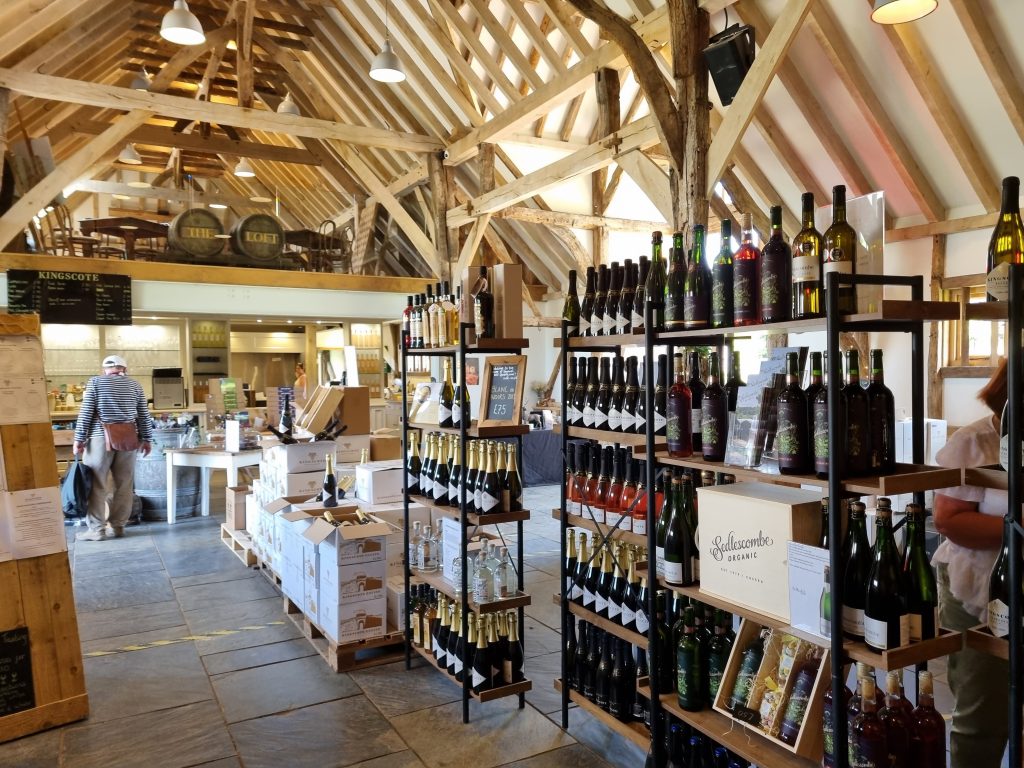 I would have bought more, dear reader, but this bottle had to go into my rucksack, and with another couple of miles still to walk, additional bottles would have been quite challenging for my ageing frame to carry back to the car!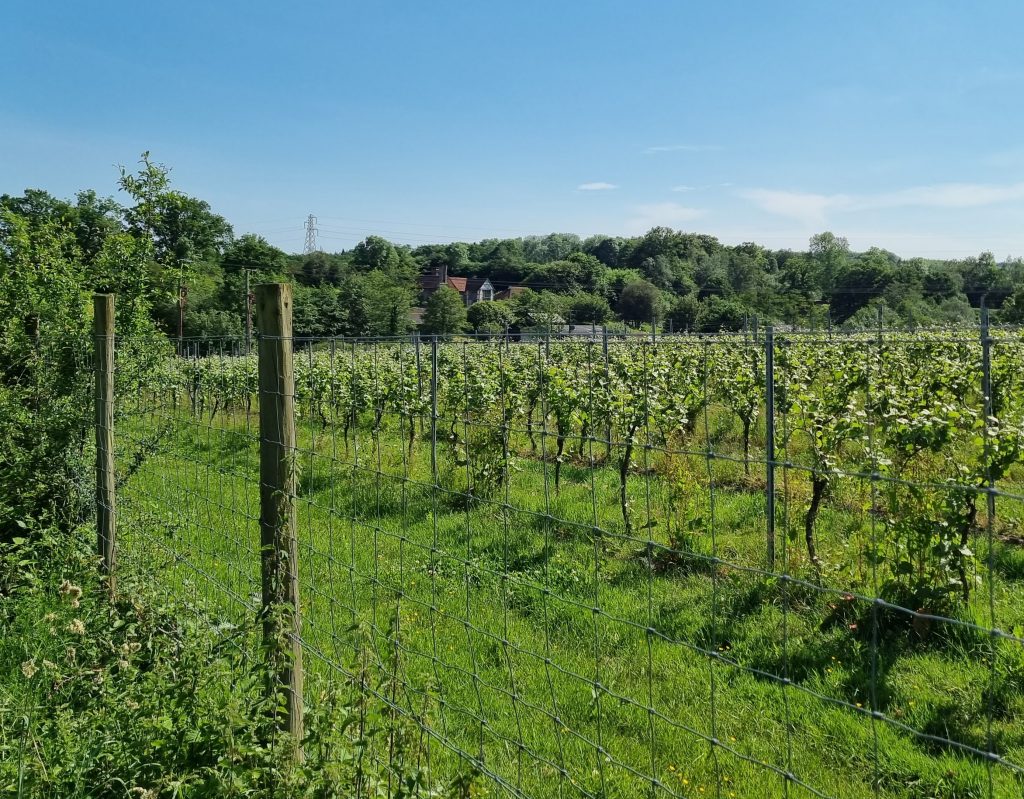 The Gravetye Circular is a lovely walk. You should allow around six hours to complete it, if you plan to have a leisurely lunch and also a stop at the vineyard visitor centre. We parked at the East Grinstead Sports Club. For more info about the route, click here.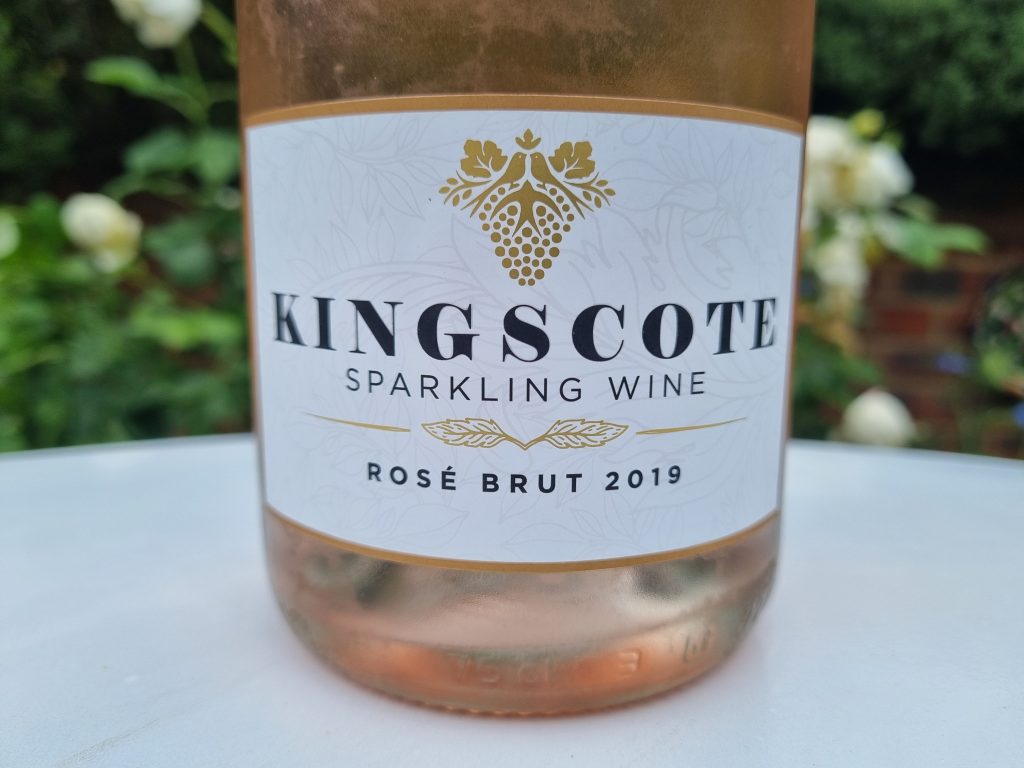 How to Get There
Kingscote Estate is a 10 minute drive from the town of East Grinstead and is well worth a visit.
The address is: Vowels Lane, East Grinstead, West Sussex, RH19 4LG
If you've inherited some money recently and can afford the seasonal lunch menu at the Gravetye Manor, you can book a table here: https://www.gravetyemanor.co.uk/dining/
Please click here to read my blog about visits to the Hush Heath Estate and the Gusbourne Estate in Kent.