A garden makeover – a challenging DIY project
When we bought our home in Kent, we had acquired quite a large, but not very appealing, semi-circular area of front garden. It was basically an expanse of driveway gravel with a few shrubs randomly planted in borders which had been created using upturned patio bricks. The good news was that there was clearly potential here for our Japanese garden project. But how to go about it?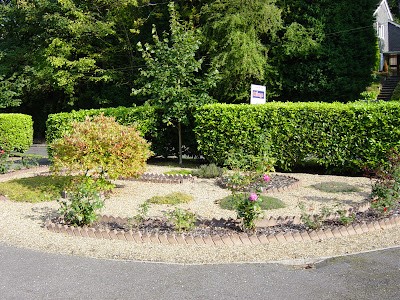 My wife, who comes from Japan herself, spent some time studying garden design books to figure out what sort of Japanese garden would work best in the space. Neither of us had ever done a project like this before and we weren't really sure how to begin. But it wasn't long before we were out digging up the front garden and levelling the whole area.
Garden Design Calls for Lots of Digging
Much to our disappointment, the soil turned out to be quite sandy. Three full skip loads of soil, shingle and rubble had to be removed. When the house was originally built, this part of the plot must have been used as a dumping ground for discarded building materials.
It wasn't a very encouraging start, but having already dug up the garden there was really no turning back.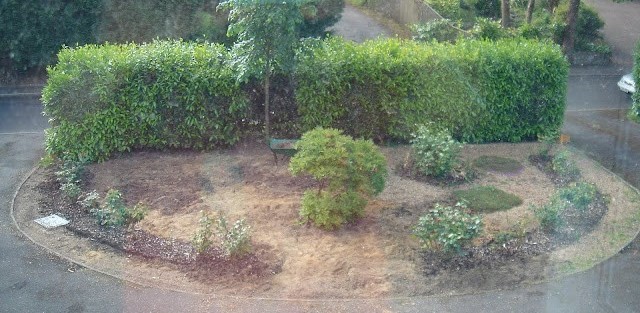 My wife had by now sketched out a plan for the new garden. Her plan was to keep it quite simple, in a minimalist Zen sort of way.
There would be a dry river bed, a bridge, a rockery area, a Japanese "toro" lantern and a stone bench. There would also be a stepping-stone path leading through the garden.
Rhino Rock (Japanese Garden Supplies) to the Rescue!
Most of the items we needed were sourced from a great local business, Rhino Rock in East Peckham, who specialise in Japanese garden supplies.
We also sought the assistance of a local landscape gardener on the "heavy-lifting" parts of job, such as concreting things in and digging out more soil so we could establish the dry river bed.

Once the "old" front garden had been completely dug up, a protective weed control membrane was laid over the whole area. A large quantity of grey shingle was ordered from Rhino Rock and this was evenly spread across the whole area. Several bags of paddle stones were delivered and these were carefully set into the dry river bed.
Japanese Planting
We decided to leave some of the original plants where they were and added some new ones. The new plants were all Japanese varieties – azaleas, peonies, irises, acers and bamboo. We also planted a pair of Japanese cherry trees (sakura), and some alpine plants along the stepping-stone path.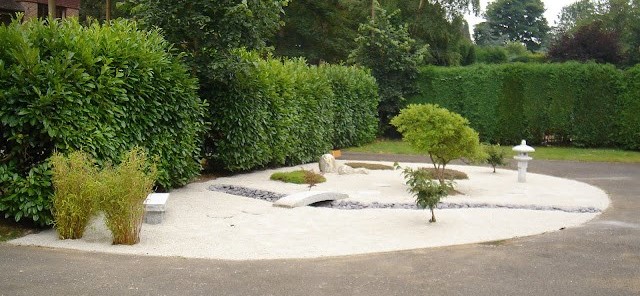 The Japanese cherry trees initially grew very well, and the pink blossom (sakura) was beautiful in the spring. Sadly, in their third year neither of the trees flowered. They subsequently dried up and died. We don't know why. We've found that most Japanese plants do pretty well in Kent. The climate here is not dissimilar to that of northern Japan.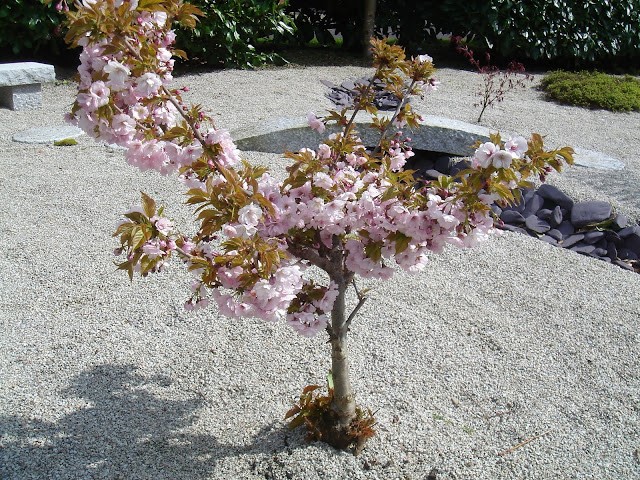 My wife was rather sad about losing the Japanese cherry trees. At this point she decided to embark on a second stage of development of the garden.
The stepping-stone path was extended, more rockery was added, new Japanese planting went in, along with two natural bamboo fence panels and a water feature.
The planting was selected to provide year round colour in the garden. We really like the way the garden's appearance changes with the seasons.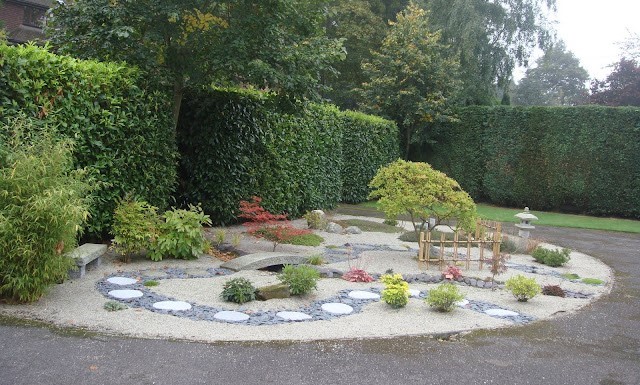 Mental Health Benefits
Creating a Japanese garden isn't really a project that can be rushed. It was five or six years before the planting was fully established.
My wife has definitely succeeded in bringing a little corner of Japan to an English front garden. It's just a nice space to sit in and contemplate or read a book. We've come to realise that the tranquility of the space has benefitted our mental health.
Here are some pics of the garden as it is today: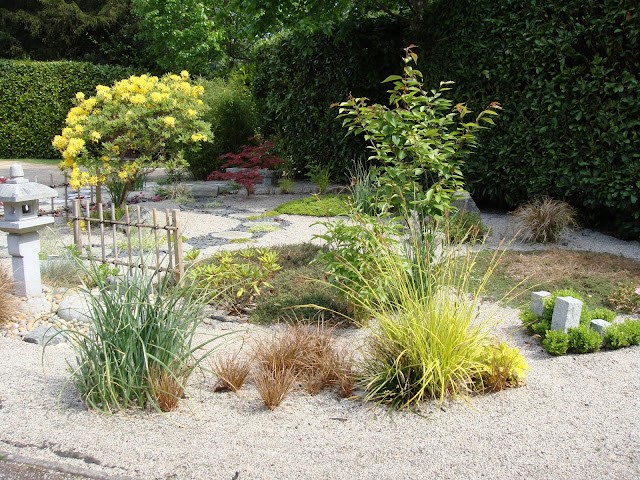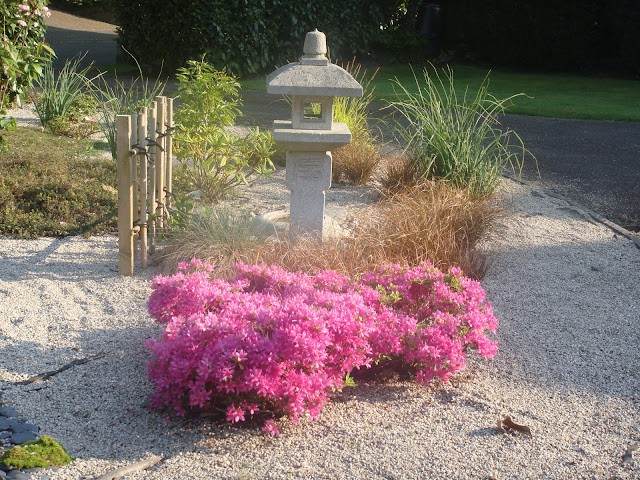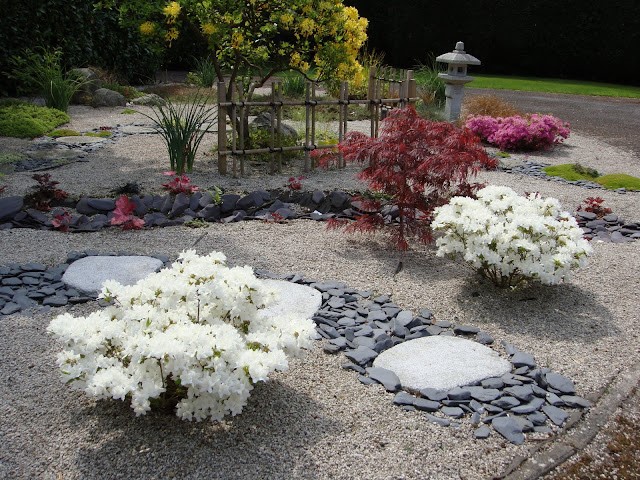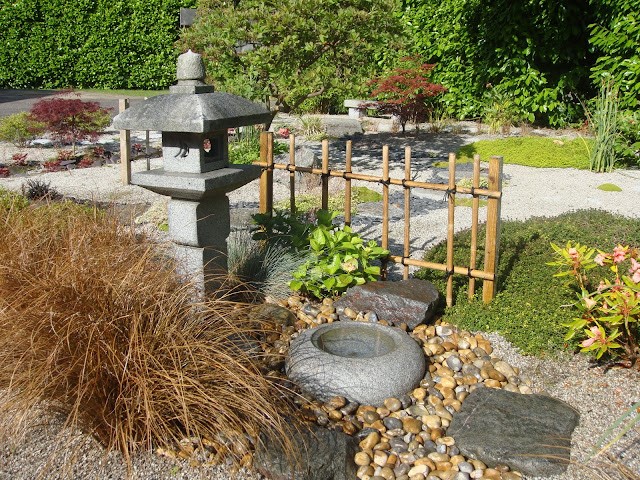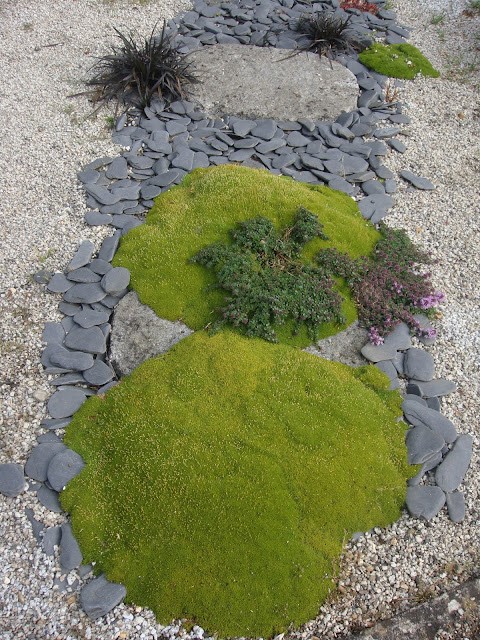 We also created a new organic fruit and vegetable growing patch. Click here to read how we did this.